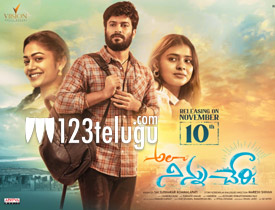 Release Date : November 10, 2023
123telugu.com Rating : 2.25/5
Starring: Dinesh Tej, Hebah Patel, Payal Radhakrishna, Kalpalatha, Khedar Shankar, Jhansi, Shatru, Mahesh Achanta, Chammak Chandra, Basha, Anashvi Reddy, Shiva Kumar, Mirchi Madhavi, Sri Lalitha, Keerthi Naidu, Josh Ravi, Shivanya Mehra, Pooja Kasekar
Director: Maresh Shivan
Producer: Kommalapati Sai Sudhakar
Music Director: Subash Anandh
Cinematographer: I. Andrew Babu
Editor: Kotagiri Venkateshwara Rao (Chanti)
Related Links : Trailer
Small film Ala Ninnu Cheri, starring Dinesh Tej as the main lead, released in theaters today. Check out our review to know how the movie is.
Story:
Wealthy village belle Divya (Payal Radhakrishna) falls in love with Ganesh (Dinesh Tej). When her single mother attempts to arrange her marriage, Divya contemplates eloping with Ganesh. However, he hesitates due to his ambition. What unfolds next for Divya? What is Ganesh's ambition? How does Anu (Hebah Patel) become a part of his journey? Did Ganesh achieve his goal? The movie holds all the answers.
Plus Points:
Dinesh Tej, known for his roles in Husharu and Play Back, delivers a decent performance in the role of a man grappling with the choice between his career and love. He impressively showcases his dancing and fighting abilities.
Paayal Radhakrishna brings a buoyant charm to the film, emoting lovely expressions. The love scenes between her and the protagonist are enchanting.
The comedy by the hero's sidekick, Mahaboob Basha, succeeds to some extent. Other actors deliver satisfactory performances in their respective roles.
Minus Points:
The primary drawback lies in the story, which feels overly familiar and seen in numerous Telugu movies for years. Despite the well-known plot, the director missed the opportunity to infuse a fresh perspective with an engaging screenplay.
Hebah Patel adds glamour to the film, but most of her scenes are not family-friendly and also fail to contribute significantly to the overall story.
The dialogues are mediocre, some intentionally targeting adult segments. These may not resonate well with family audiences.
While the songs sound pleasant in terms of tune, a couple of tracks lack meaningful lyrics.
The character of Mahesh Achanta could have been given more depth, and Chammak Chandra's role seems unnecessary. Several scenes are injected without adding substantial value, contributing to the film's excessive length.
Technical Aspects:
Director Maresh Shivan fails to execute the film effectively. Predictable scenes could have been enhanced with better screenplay and engaging dialogues, but instead, the film includes unnecessary and explicit language.
The editing department could have trimmed many scenes to reduce boredom. Cinematography and music are average, and despite being debutants, the producers spent a decent amount, and one can witness the decent production values on the big screen.
Verdict:
On the whole, Ala Ninnu Cheri is a disappointing love drama with a conventional plot. Despite Dinesh Tej's decent screen presence, the film is marred by unnecessary scenes and non-family-friendly content. It's better to explore alternative entertainment choices this weekend.
123telugu.com Rating: 2.25/5
Reviewed by 123telugu Team
Articles that might interest you:
Ad : Teluguruchi - Learn.. Cook.. Enjoy the Tasty food
TAGS:
Ala Ninnu Cheri Movie Review
,
Ala Ninnu Cheri Review
,
Ala Ninnu Cheri Review and Rating
,
Ala Ninnu Cheri Telugu Movie Review
,
Ala Ninnu Cheri Telugu Movie Review and Rating
,
Basha
,
Chammak Chandra
,
Dinesh Tej
,
Hebah patel
,
Jhansi
,
Kalpalatha
,
Khedar Shankar
,
Mahesh Achanta
,
Payal Radhakrishna
,
Shatru