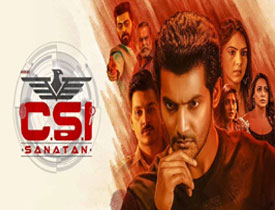 Release Date : March 10, 2023
123telugu.com Rating : 2.75/5
Starring: Aadi Sai Kumar, Misha Narang, Nandini Rai, Tarak Ponnappa, Vasanthi, Sanjay Reddy, Madhusudhan Rao, Ali Reza, Khayyum, Siva Karthik, Vikas, Ravi Prakash, Bhupal Raju.
Director: Sivashankar Dev
Producers: Ajay Srinivas
Music Director: Aneesh Solomon
Cinematography: Ganganmoni Shekar
Editor: Amar Reddy
Related Links : Trailer
Actor Aadi Sai Kumar's new film, CSI Sanatan, directed by Sivashankar Dev, has been released in theaters today. Check out this review to know how the film is.
Story
Vikram Chakravarthi (Tarak Ponnappa), the CEO of VC Finance Company, gives interest-free loans to middle-class people and gets richer in no time. One day, he gets killed in his office after a party. The police department takes the help of Sanatan (Aadi Sai Kumar), a Crime Scene Investigation (CSI) specialist, to solve the mystery. Did Sanatan solve the case? What problems did he face during the investigation? How are Sudheeksha (Misha Narang) and minister Rajavarshan (Madhusudhan Reddy) related to this case? Who is the culprit? To know the answers, one needs to watch the film.
Plus Points
With each film, Aadi is emerging as a good actor and even the selection process of his scripts is also getting better. This film showcases Aadi in a new angle and proves that he can do out-and-out serious subjects. He delivered his best performance as a CSI officer and his body language is also good during the action sequences and investigation scenes.
Coming to other actors, Bigg Boss fame Ali Reza, who played police officer Rudra, also did a neat job. Nandini Rai, Madhusudhan Rao and Ravi Prakash also delivered their best.
The story is nothing new to our audiences, but the investigation scenes laced with some twists and turns create curiosity and make one enjoy the film.
Minus Points
The first thing that needs to be discussed in this section is the screenplay. One needs to come up with an engaging screenplay for this kind of investigation thriller. Unfortunately, the writers' duo Chaganti Santaiah and Sivashankar Dev failed in this aspect. If this familiar story was narrated interestingly, CSI Santan would have become an interesting crime thriller.
The director did an okay job. He should have taken more care in choosing the right script because it has some loopholes and unnecessary scenes that look illogical and meaningless. Adding to this, some dialogues spoil the essence of the investigation scenes. "If a murder happens, then it means there is a murderer." This is one of the many worst dialogues the film has.
The director could have included some action episodes to make CSI Sanatan an engaging experience in theaters.
Characters played by Vasanthi and Khayyum have nothing to do with the main plot except for creating some suspense. Heroine Misha Narang is unimpressive and of course, she has nothing much to perform in the flick. Nandini Rai's character could have been written better to create more drama and suspense.
Technical Aspects
Sivashankar Dev should have written an engaging story to make CSI Sanatan an interesting investigation thriller. Cinematography by Shekar and music by Aneesh Solomon failed to enhance the film's quality. The editing by Amar Reddy could have been better, as a few scenes are chop-worthy in both the halves. The production values are just about average.
Verdict
On the whole, CSI Sanatan is a crime investigation thriller that only works in parts. Aadi's performance and a few twists and turns in the second half make the film a watchable fare. Barring a few scenes and a slow-paced screenplay in the first half, you may give the film a watch this weekend.
123telugu.com Rating: 2.75/5
Reviewed by 123telugu Team
Articles that might interest you:
Ad : Teluguruchi - Learn.. Cook.. Enjoy the Tasty food
TAGS:
Aadi Sai Kumar
,
Ali Reza
,
Bhupal Raju.
,
CSI Sanatan Movie Rating
,
CSI Sanatan Movie Review
,
CSI Sanatan Movie Review and Rating
,
CSI Sanatan Rating
,
CSI Sanatan Review
,
CSI Sanatan Review and Rating
,
CSI Sanatan Telugu Movie Rating
,
CSI Sanatan Telugu Movie Review
,
CSI Sanatan Telugu Movie Review and Rating
,
Khayyum
,
Madhusudhan Rao
,
Misha Narang
,
Nandini Rai
,
Ravi Prakash
,
Sanjay Reddy
,
Siva Karthik
,
Tarak Ponnappa
,
Vasanthi
,
Vikas