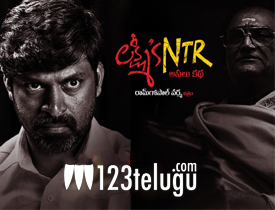 Release date : March 29, 2019
123telugu.com Rating : 2.75/5
Starring : P Vijay Kumar, Yagna Shetty, Rajsekhar
Director : Ram Gopal Varma,
Producers : Rakesh Reddy
Music Director : Kalyani Malik
Editor : R Kamal
After being in the news for raking up several controversies for the past few months, Ram Gopal Varma's political drama, Lakshmi's NTR has finally hit screens today in Telangana, the Rest of India, overseas, except in Andhra Pradesh. RGV had promised to showcase the unknown, bitter truths behind the 'great betrayal' before NTR's demise. Let's see if he lived up to his promise.
Story:
Lakshmi's NTR starts off by showcasing how love blossomed between NT Rama Rao and his autobiographer Lakshmi Parvathi. The film takes the audiences back to the late 80s and ends with NTR's demise. How NTR's marriage to Lakshmi Parvathi gave rise to the revolts by his family members and the 'Mana Desam' party MLAs, led by NTR's son-in-law CB Naidu forms the main crux of the story. Several landmark political episodes that took place in NTR being dethroned from the CM's chair are retold in typical RGV's style. To know how these are showcased, watch the film on a big screen.
Plus Points:
The commendable performances by the film's lead cast are the major highlights of Lakshmi's NTR. RGV is a maverick in casting the right actors in all his movies is a well-known fact and he does it yet again with Lakshmi's NTR. Debutant P Vijay Kumar, who played NTR, impresses with a solid act. His performance in the second half of the movie, especially in the pre-climax and climax scenes, will move the audiences emotionally.
Kannada actress, Yagna Shetty plays Lakshmi Parvathi with a lot of poignance. The way she brings out her vulnerability in the scenes where she is entangled in the family tirade against her and NTR after their marriage deserves special mention. The young hero, Shri Tej as CB Naidu, NTR's shrewd son-in-law and the mastermind behind the 'great betrayal' on NTR, is brilliant. Rest of the actors who played NTR's children Harikrishna, Balakrishna and Purandheswari are adequate and they evoke a strong response from the audience.
There are several scenes, especially when the film dons the political drama color makes the audience enjoy the drama. The last 20 minutes of the movie is emotional and audiences will be moved to see a legend like NTR taking his last breath after an alleged betrayal by his own people.
Minus Points:
Lakshmi's NTR often gives a major sense of deja vu. Contrary to what he had promised, RGV doesn't come up with any surprising revelations about what went behind the walls, and retells the same old story with a biased perspective, targeting CB Naidu. Since audiences are aware of almost all the scenes, the movie appears slow-paced and predictable throughout.
The most crucial scene in the film, NTR's marriage proposal to Lakshmi Parvathi, lacked clarity and thus leaves audiences unconvinced. What made Lakshmi Parvathi, who was otherwise in a harmonious relationship with her understanding husband Veergrandham, ditch him and her son to marry NTR is not explained by RGV.
Audiences would have empathized with RGV's motive to antagonize NTR's son-in-law CB Naidu and his children had he come up with some never before seen or heard incidents to justify his narrative. Isn't it quite common for children of those days to be not able to see their reputed father inviting another lady into his life, in place of their mother?
Technical Aspects:
Directors RGV and Agasthya Manju manage to come up only with a half-baked family drama. While they succeed in extracting riveting performances from the lead actors, they disappoint with a predictable story and screenplay, filled with universally well-known incidents that leave the audiences asking for more.
Music composer Kalyani Malik's background score is dramatic, impactful and serves the director's purpose. All the songs are shown through montages and they don't hinder the proceedings. The theme track that plays whenever CB Naidu as a manipulative leader appears onscreen is menacing.
Cinematography by Raamy is decent. The light and shadows he created effectively showcase NTR and Lakshmi Parvathi's inner turmoil. Editing could have been a bit sharp, especially in the first half, to add the much-needed pace.
The production design is adequate. Since a major portion of the film is shot indoors, there was not much scope to recreate the period ambiance. Although most of the dialogues are functional, some rendered by NTR, especially about his son-in-law and children, are quite intense and add to the betrayal that unfolded.
Verdict:
On the whole, Lakshmi's NTR showcases the downfall of legendary NTR personally and politically after his wife, Lakshmi Parvathi entered his life. The film often appears too biased, as RGV showcases CB Naidu as a manipulative son-in-law and party leader, without supporting his narrative with unknown facts. Thanks to the numerous controversies and the upcoming general elections fever, Lakshmi's NTR may open well and will cash in on the curiosity factor among the audience for now. However, the film ends up being a half-baked and underwhelming tale of history which still echoes in the hearts of every Telugu person who was once a silent witness. We need to see how it fares in the long run once the curiosity factor dies out.
123telugu.com Rating : 2.75/5
Reviewed by 123telugu Team
Articles that might interest you:
Ad : Teluguruchi - Learn.. Cook.. Enjoy the Tasty food