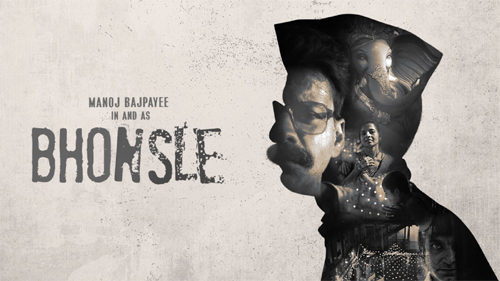 Cast: Manoj Bajpayee,Santosh Juvekar ,Virat Vaibhav
Writers: Devashish Makhija, Mirat Trivedi, Sharanya Rajgopal
Director: Devashish Makhija
So, continuing the series of reviewing movies and shows during the lockdown period, our today's pick is the new Hindi film Bhonsle. The film is available on Sony Liv and let's see how it is.
What's it about
Ganpat Bhonsle (Manoj Bajpai) is forced to take voluntary retirement from the police department due to health issues. He lives a boring life in a one-room house in a crazy locality in Mumbai city. In such a time, a girl named Sita (Ipshita Charaborthy) and her brother, from Bihar come to stay next door. They start interacting with Bhonsle and become close to him. The twist in the tale arises when Vilas Dhavle (Santosh Juvekar) a local guy starts a revolution in the locality saying only Mumbaikars need to be given key preference in jobs and an upper hand in society. This creates tensions for Sita and her brother. What does Ganpat Bhonsle do to deal with this situation is the whole story of the film.
What's good?
Bhonsle is a one-man show from Manoj Bajpai. The national award-winning actor just lives in his role and gives a memorable performance. The way he plays a 60-year-old man stuck in the diversities of mankind and love for his state, Manoj has showcased everything so beautifully. Manoj's body language emotional outbursts and the way he shows subtle emotions of an old man, this film is an example of his acting prowess.
The girl, Ipshita Chakraborthy who plays the nurse does a good job like the one struggling in the city. The film has solid camerawork as the manner in which the Chawls of Mumbai are being showcased is superb. The art direction needs a special mention for its detailing. The narration starts off slow but the film has a good theme and engaging screenplay. The BGM and Majon's costumes are also very good. The realistic factor in the film has been maintained well.
What's bad?
The ending of the film is a bit disappointing as many would expect something different from what is shown. The pace of the film has its own tone which will be not liked by all. The communal and regional dispute shown is a taken a notch higher in many scenes was were not needed at all.
Final Word
Overall, Bhonsle is a gritty and very well-made film about how migrants are treated in a city like Mumbai. The premise, story, and Manoj Bajpai's mind lowing performance are huge assets. Though the pace is slow, this film has a dark theme, emotional depth, and makes for a very good watch during this lockdown period. Go fo it.
Rating: 3.5/5
Articles that might interest you:
Ad : Teluguruchi - Learn.. Cook.. Enjoy the Tasty food