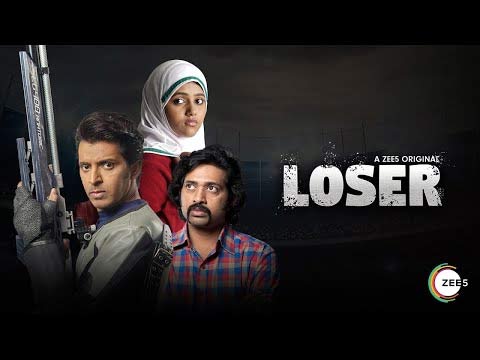 Starring : Priyadarshi, Sayaji Shinde, Shashank, Kalpika Ganesh
Director : Abhilash Reddy
Producers : Zee 5, Annapurna Studios
So, continuing the series of reviewing movies and shows during the lockdown period, our today's pick is the new and original Telugu web series called Loser. Directed by Abhilash Reddy, this web series is available on Zeee 5.
What's it about?
Loser is set in three different time zones of 2007, 1995, and 1985. The 2007 story is about Suri Yadav(Priyadarshi) an air rifle shooter whose aim is to make it to his state team. In the year 1995, Ruhi(Annie, Kalpika) is a young badminton player from a very orthodox Muslim family who wants to make it big in her field. Then, in the year 1985, Wilson(Shashank) is an aspiring Ranji player who wants his place in the Indian cricket team. Everyone is struggling to make it big in their own field and all these stories are connected. How they are and what happens to them in the due course of time, forms the crux of this web series.
What's good?
What impresses you first is the story written by director Abhilash Reddy. He sets this web series in three time zones beautifully and each of the stories has depth, solid emotion, and reliability. In any film or a web series, only the lead cast gets good roles but in Loser, every single character is superbly written and has equal importance.
Priyadarshi is turning to be an all-rounder and does amazingly well as Suri Yadav. The way he carries his role as a helpless sportsman is very good to see. All his scenes with his brother and most importantly his girlfriend played by Pavani Gangireddy are amazing. The woman empowerment angle showcased in the web series is quite strong and needs to be appreciated. Komalee Prasad was also amazing in her role and her emotional expressions were too good.
But it is Shashank who walks away with the cake as Wison. All these years of wait and struggle for the actor have come true with Loser as he is the best part. He as an aggressive bowler to a very silent old man, Shashank has shown it all. Be it his body language, dialogue delivery, or emotions, he gets his due and proves what an actor he can turn out to be.
Lastly, Kalpika Ganesh is also a shocker as the elder Ruhi. She too gets an intense role and excels in it. Kalpika was superb in all the emotion-filled scenes with her husband in the film. Pavani Gangi Reddy is also amazing in her role. The connections to all the stories have been established superbly. Director Abhilash gets full marks for his work and is a talent to watch out for.
What's bad?
The story of the film is quite simple and has traces of Jersey even though the story is different. Also, the pace in the seventh and eight episodes becomes a bit slow. There is absolutely no clarity as to why Kalipka Muslim husband behaves in such a way with his wife.
Final Word?
Overall, there is no denying the fact that Loser is one of the best web series made in Telugu so far. It has strong emotions, triumph, purpose, and moreover some of the best performances in recent times. All the ten episodes are superbly narrated and executed by Abhilash Reddy and make up for a very engaging watch. Don't Miss It.
Rating: 3.5/5
Articles that might interest you:
Ad : Teluguruchi - Learn.. Cook.. Enjoy the Tasty food