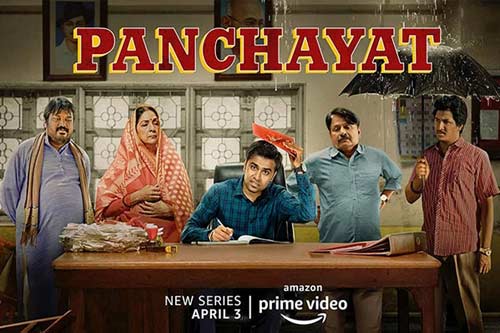 Cast: Jitendra Kumar, Raghubir Yadav, Neena Gupta
Created by: Deepak Kumar Mishra
Music: Anurag Saikia
Cinematography : Amitabh Singh
Our pick today, in the ongoing Lockdown review series, is TVF's Panchayat, starring Jitendra Kumar, Raghubir Yadav, Neena Gupta. The series, which is streaming in Amazon Prime, narrates the story of a young engineering graduate who ends up as a secretary to the gram panchayat President in a small village in Uttar Pradesh, when he fails to land a job in college.
What's the story about?
Abhishek Tripathi (Jitendra Kumar) is dejected after failing to get a job during campus placement, and left with no other choice, he takes the post of a secretary to the gram panchayat president in a village, Phulera, in Uttar Pradesh. His friend encourages him to stick to the job for a few months, saying that it'll help him during the interviews for MBA admission at IIMs. However, once Abhishek lands in Phulera, he finds himself increasingly frustrated with the lack of infrastructure and social life in the village. And as he keeps meeting more people and gets involved in their issues, Abhishek tries to find peace in his new life, where his disappointments and frustration are at constant battle with a world that is quite far away from the fast-paced city life.
What's Good?
Panchayat sets itself apart in terms of its tone and characterisations right from the very beginning. And while there are plenty of TV shows and web-series which have focused on crime and violence, and the ugly side of the society, Panchayat feels like a welcome change in a big way. Be it the humour or the common issues in villages that the series highlights, it's bound to make you smile. For instance, in one episode, the villagers are upset with a slogan on the wall which is meant to discourage adults from having more children. And in another, a couple fights over what name is best suited for their newborn son. In between all these idiosyncratic characters is our protagonist Abhishek, who just wants to find time and peace to prepare for his CAT exam. Jitendra Kumar is perfect in his role as the gram panchayat secretary, who hates living in the village, but slowly opens up to his colleagues, especially the assistant Vikas. Raghubir Yadav, who plays Pradhan, is terrific as a kind-hearted man, who empathises with the fate of Abhishek Tripathi, but is also scheming in his own way to remain in power. Neena Gupta delivers a solid performance in her role and her character graph evolves beautifully over the course of the series.
What's Bad?
While the series does a great job in highlighting the everyday lives of the villagers, it also holds itself back in a lot of ways. In the beginning of the story, Abhishek's friend tells him that he could be the Mohan Bhargav from Swades, who brings about a big change in the village; however, quite soon, Abhishek realises that the reality is quite different. In a way, Panchayat doesn't strive to be an underdog's story or an inspiring tale of changemaker. It simply focuses on how a frustrated young man from a city ends up in a village and learns to live with them, and it kind of becomes a low stakes drama where nothing too dramatic happens. Thankfully, it does address the issue of women empowerment in an interesting manner.
Final word :
If you are looking for a feel-good drama which is devoid of violence and crime, Panchayat is your best bet. It's got his heart in the right place and it'll make you smile every now and then. The best part of the series is that it doesn't try too hard to impress the audience, but it'll win you over with its simplicity.
Rating: 3.5/5
Articles that might interest you:
Ad : Teluguruchi - Learn.. Cook.. Enjoy the Tasty food