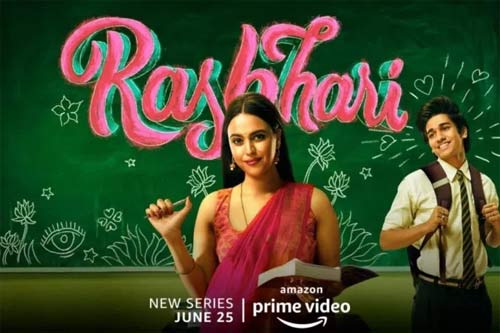 Cast : Swara Bhaskar, Sunakshi Grover, Neelu Kohli, Ayushmaan Saxena, Pradhuman Singh, Chittaranjan Tripathy, Akshay Batchu, Akshay Suri
Directed by : Nikhil Bhat
Produced by : Tanveer Bookwala, Sameer Nair, Deepak Segal
Music by : Pranaay
Cinematography by : Piyush Puty
So, continuing the series of reviewing movies and shows during the lockdown period, our today's pick is the new Hindi series Rasbhari featuring Swara Bhaskar. The series is available on Amazon Prime Video and let's see how it is.
What's it about
The series is set in Meerut and is based on the 11th standard teenager Nand(Ayushman Saxena) whose sole aim is lose his virginity. In such a situation, Nand falls head over heels on his new English teacher Shanu(Swara Bhaskar), and shifts his life goals to woo her at any cost. After a while, the situation in his town becomes such chaotic that everyone including Nand's father wants to sleep with Shanu. What is so special about Shanu madam? Who is this Rasbhari? and what will happen to Nand's goals? That forms the rest of the story.
What's good?
Ayushman Saxena who plays the young kid Nand is the best part of the show. He does well in his role and portrays various emotions quite well and his comic timing is good. The actress who played the role of Nand's mom was superb and brings a comic factor in the series. The small town setup and how women are looked upon so cheaply by the men have been addressed well.
Coming to Swara Bhaskar, she does not have anything to do until the 5th episode but Swara tries hard to do justice to it. The romantic angle between Nand and his girlfriend Priyanka looks decent. The camerawork, BGM, and songs are good. Dialogues need a special mention.
What's bad?
The plot of the film is simple but it is dragged to no extent. The school kids having crushes on English teachers is quite common but here in this series, the makers have made things cheap and over the top by making students talk and do things in a very vulgar manner. Swara Bhaskar's role is very bad. Even though she tries hard, there is no balance or seriousness in the way the director has showcased her.
Until the fifth episode, the plot is just dragged to no extent and only things make sense in the last three episodes but by then the show makes you frustrated. In a way, it gives you a headache as none of the scenes and motive of the show makes any sense.
Final Word
Overall, Rasbhari is an adult comedy that has a good premise but is spoilt with horrible narration. The ending is left open and the so-called romantic and fantasy elements look silly and vulgar. It is surprising to see Swara Bhaskar Bhaskar accept such a series that is so over the top and has nothing going its way. Just ignore it.
Rating: 1.5/5
Articles that might interest you:
Ad : Teluguruchi - Learn.. Cook.. Enjoy the Tasty food