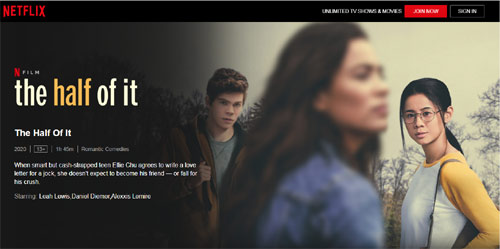 Starring : Leah Lewis, Daniel Diemer, Alexxis Lemire
Directed by : Alice Wu
Produced by : Anthony Bregman, M. Blair Breard, Alice Wu
Music by : Anton Sanko
Cinematography : Greta Zozula
Our pick today in our ongoing series of Lockdown Reviews is Alice Wu's The Half Of It, a teenage romantic drama, starring Leah Lewis, Daniel Diemer, and Alexxis Lemire in lead roles. It's currently streaming on Netflix.
What's the story about?
Ellie Chu (Leah Lewis) is an intelligent young girl, hailing from a Chinese immigrant family, who studies in a school in the countryside of the USA. Although her father is an engineer with a PhD, his lack of communication skills, especially when it comes to speaking English, prove to be a big obstacle, and their family is left with no choice but to continue living in the small town, where nothing really happens. Although Ellie is a smart young girl, she's an introvert, and she hardly has any friends. She earns pocket-money by completing assignments of her classmates and she doesn't try to engage in any conversations with them. One day, she's approached by the school jock, an American football player, Paul Munsky (Daniel Diemer), who wants Ellie's help to confess his love to Aster Flores (Alexxis Lemire), his classmate. While Ellie agrees, reluctantly, to help Paul, she slowly realises that she too is in love with Aster. The rest of the story is about how Paul and Ellie try to navigate their friendship, and how Ellie comes to terms with her sexuality and love for Aster.
What's Good?
The Half Of It follows a similar narrative style of the French play, Cyrano de Bergerac, which was also the basis for Srinivas Avasarala's Oohalu Gusagusalaade, starring Naga Shaurya and Raashi Khanna. However, instead of treating The Half Of It as a triangular love story, filmmaker Alice Wu turns it into a heartwarming drama where the lead protagonist, Ellie Chu explores her identity, the bond which she has with her father, and being treated differently at school because of her race. As the only Chinese girl in the whole town, she's often bullied and called all sorts of names, but Ellie learns to live with it. At school, her English teacher is the only one who encourages her to apply for college, helping her to dream big and go out of the town; however, Ellie isn't sure if she wants to leave her dad behind. So, when she strikes an unlikely friendship with Paul, everything begins to change. Her own feelings for Aster slowly change Ellie as a person, and she finally understands how love can transform people. All these aspects are beautifully explored in the film, and Alice Wu explores all these aspects quite well. Among the best parts of the film are Paul and Ellie's conversations, apart from how Ellie's own bonding with her father evolves over a period of time.
What's Bad?
Since the story is set in a small town, the film also reflects the slow-pace of life around the characters. At times, it feels like nothing really happens in the film since the conversations and incidents are largely centred around two or three characters. Although the characterisations of Ellie Chu and Paul are well-written, the film also leaves an impression that Aster doesn't get as much screen time as she merits.
Final Word:
For an indie-film about a Chinese girl living in the US, The Half Of It is surprisingly heart-warming and it captures the immigrant experience and their anxieties, little joys, ups and downs quite well. Although, at the outset, the film's narrative feels quite familiar, the beauty lies in how Ellie Chu's characterisation is written and Leah Lewis is wonderful in the lead role. Writer and director Alice Wu builds on a familiar story, but takes her lead character, Ellie Chu on a path of self-discovery and that makes all the difference. The Half Of It is a feel-good film and a welcome change in the high school teenage drama genre.
Rating: 3.5/5
Articles that might interest you:
Ad : Teluguruchi - Learn.. Cook.. Enjoy the Tasty food