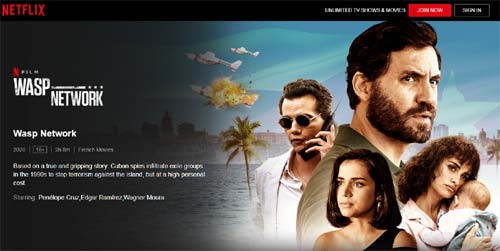 Cast: Penélope Cruz, Édgar Ramírez, Gael García Bernal, Ana de Armas, Wagner Moura
Director: Olivier Assayas
Music: Eduardo Cruz
Today's pick in our ongoing series of Lockdown Reviews is Olivier Assayas's Wasp Network, which is currently streaming on Netflix. The film is based on a book, The Last Soldiers Of The Cold War, written by Fernando Morais, and the screenplay has been written by Olivier Assayas.
What's the story?
Based on true events, Wasp Network tells the story of a bunch of Cuban spies who infiltrate a major organisation based in the US to stop terrorist activities in Cuba. After the Cuban revolution in 1959, several pro-democracy activists fled to the US and settled in Miami, Florida. And in the next few decades, they formed an organisation named Cuban American National Foundation (CANF). Although their original idea is to earn the support of other countries to fight against communism in Cuba and pave way for the formation of a democratic government, a section of people related to CANF go a little too far to achieve their goals. In the '90s, several people from Cuba defect to the US and get involved with CANF, which enlists some of the former Cubans to fly planes to Central America to transport drugs and the money earned from such activities is used to create havoc in Cuba. The rest of the story is about how these select few people, who are part of Wasp Network, spoil the plans of CANF and save countless lives in Cuba.
What's Good?
First things first, for anyone interested in world history and politics, Wasp Network gives an interesting insight into what happened in Cuba in the '90s. While a lot has been written about the strained relations between US and Cuba, and the economic sanctions which crippled the Cuban economy, the film focuses on the lives of Cubans after the fall of Soviet Union in the '90s. The historical context is important to understand the desperation behind why CANF wanted to bring down Fidel Castro's regime and the fall of Soviet Union gave them a big opportunity. The best part about the film is that it gives an insight into all these aspects, and it's quite earnest about what it wants to say. Unlike most action dramas, which have explored a similar backdrop of spies and geo-politics, Wasp Network also focuses on how the decisions taken by spies have had adverse effects on their personal lives. Penelope Cruz, who played Olga, is terrific in her role, and Edgar Ramirez and Wagner Moura deliver noteworthy performances. Cinematography by Yorick Le Saux and Denis Lenoir is stunning, and Olivier Assayas manages to recreate the political turmoil of the '90s quite well.
What's Bad?
Despite an interesting story, Wasp Network just doesn't work as a film. In fact, there's barely anything thrilling about the narrative even when it focuses on how the spies managed to stop a lot of terrorist activities. Everything is told as a matter-of-fact and a bigger issue is how the whole story is structured. There's an important flashback, which feels terribly out of place, and it completely hampers the flow of the story. In his attempt to strike a balance between the personal and professional lives of the spies, Olivier Assayas doesn't do justice to either of them. Considering the A-list actors in the cast, this is a huge letdown.
Final Word :
While there are plenty of spy dramas available for streaming, Wasp Network feels different because of its US-Cuba backdrop; however, that might be the only interesting thing about the film. It's neither a gripping thriller nor a deeply moving drama about a group of spies who gave up everything for their country. If you are in the mood for a good spy drama, Sacha Baron Cohen starrer The Spy, also streaming on Netflix, is a better alternative.
Rating: 2.5/5
Articles that might interest you:
Ad : Teluguruchi - Learn.. Cook.. Enjoy the Tasty food