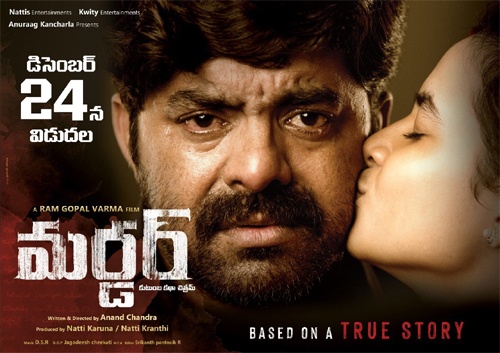 Cast : Krishnaswamy Shrikanth, Sahiti, Gayatri Bhargavi
Directed by : Anand Chandra
Producer :Natti Karuna, Natti Kranthi
Continuing the trend of reviewing shows and films, today, a Telugu film called Murder, which is produced by RGV has hit the big screens. Let's see how it is
Story
Madhava Rao(Srikanth Iyengar) is a man of principles and holds a respectable position in his hometown. He and his wife, Vanaja(Gayatri Bhargavi) raise their only daughter Namrata(Sahiti) quite well and select a good match. This is the time, Namrata shocks her parents by marrying a guy called Praveen. This angers Madhava Rao big time and he plots to kill Praveen. What did he do and what kind of sequences he faced forms the story.
Plus Points
For a change, RGV has not directed the film and this itself is a big advantage. The film is high on emotions and leading from the front is Srikanth Iyengar. With each film, the noted actor is killing it with his performance. This is his best role to date and the way she showcased love, hatred, guilt, and various emotions were so good to see.
Gayatri Bhargavi also gets a neat role and emoted quite nicely. Her emotions were on point in the film. Sahiti, who played Namrata was just about okay in her role. But the needed effect that was expected from her role was not derived. The anger in which Srikanth Iyengar takes crazy decisions has been shown well by the director. Also, the father and daughter emotional scenes have also been handled well.
Minus Points
We all know that the film is made on a real-life story and a few aspects from the story have gone missing. The director Anand makes scenes a bit overdramatic in a few areas and this spoils the fun most of the time. The narration is also weak and the film mostly favors the father's perspective.
Also, the climax is quite predictable and does not create much impact. The editing is also not that good as scenes have abrupt endings. Also, the drama and emotions are overdone in many areas which looks fake in the narrative. Also, the makers take a lot of time to establish the main conflict.
Technical Aspects
The technical department does a good job as the production values of the film are pretty good. The camerawork is effective for the most part but is overdone in a few dramatic scenes. Dialogues are good and so was the production design. Coming to the director Anand, he has got his casting on point and also extracts neat performances. But in this process, the main story which is based on a real incident is not narrated as it is and fictionalized making things look predictable.
Verdict
On the whole, Murder is a fairly better film than RGV's previous duds. Based on the real story, the performances and emotions are big assets. However, dull narration, weak, and predictable climax spoil the viewing experience to an extent. There is nothing new story-wise and can be given a shot as to know how RGV showcased this real-life incident through his production.
123telugu.com Rating : 2.75/5
Reviewed by 123telugu Team
Articles that might interest you:
Ad : Teluguruchi - Learn.. Cook.. Enjoy the Tasty food