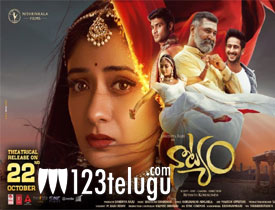 Release Date : October 22,2021
123telugu.com Rating : 2.75/5
Starring: Sandhya Raju, Kamal Kamaraj, Rohit Behal, Aditya Menon, Subalekha Sudhakar, Bhanupriya, Rukmini Vijayakumar, Baby Devina, Hyper Adhi
Director: Revanth Korukonda
Producers: Nishrinkala films
Music Director: Shravan Bharadwaj
Editor: Revanth Korukonda
Natyam is a film that has been promoted a lot in the last few days. The dance drama has hit the screens today and let's see how it is.
Story:
Sitara(Sandhya Raju) lives in a village called Natyam. Right from her childhood, she is hugely inspired by a professional dancer named Kadambari. Taking her as an inspiration, she learns to dance and decides to tell Kadmabari's story through her dance shows. But with the entry of a man called Rohit(Rohit), Sitara's life changes upside down in her village. Who is this Rohit? What connection does he have with Sitara? and how will Sitara overcome her problems and win everyone's heart. That forms the story.
Plus Points:
Professional dancer, Sandhya Raju makes her film debut and she is quite amazing. Even though it is her first film, she looks quite eased out on screen and has a good impact on the audience. She emotes well and coming to the dances, she brings out the best in her.
Sandhya Raju has herself choreographed the songs and they are the major highlights of the film. Kamal Kamaraju surprises one and all with his new avatar. He is very good as a dancer and gives an impactful performance.
Aditya Menon's performance also gives depth to the film. The production values are quite good as the dance visuals are quite rich. Even though the basic theme of the film is dance, the story is contemporary and is established quite well.
Minus Points:
The track between Sandhya Raju and Rohit looks forced. The director should have added more scenes to make their story look effective on screen. It is quite predictable and does not create much impact.
Yet another drawback of the film is the slow pace. There are many dance-based scenes that are added for no reason. If they would have been showcased in a crisp manner, the output would have been good.
Technical Aspects:
As said above, the camera work and production values of the film are top-notch. The makers have not compromised on the visuals and this shows in the songs. Editing could have been a bit better. The dialogues are decent and the choreography needs a special mention as it is impeccable.
Coming to the director Revanth, he has done a passable job with the film. Though he handled the dance part well, the other parallel track in the film is not dealt with well and this brings the film down.
Verdict:
On the whole, Nataym is a dance-based drama that has some well-executed dance sequences. The choreography, Sandhya Raju's performance, and visuals are basic assets. If you are the ones, who like dance-based films, give this film a shot. The rest can look at other options.
123telugu.com Rating : 2.75/5
Reviewed by 123telugu Team
Articles that might interest you:
Ad : Teluguruchi - Learn.. Cook.. Enjoy the Tasty food