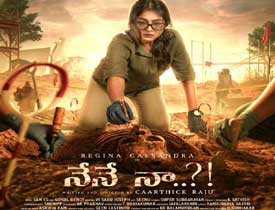 Release Date : August 25, 2023
123telugu.com Rating : 2/5
Starring: Regina Cassandra, Akshara Gowda, Vennela Kishore, Jaya Prakash, Thagabothu Ramesh, Jiva Ravi, Michael
Director: Caarthick Raju
Producer: Raj Shekar Varma
Music Directors: Sam CS
Cinematographers: Gokul Benoy
Editor: Sabu Joseph
Related Links : Trailer
The long-delayed movie Nene Naa, starring Regina Cassandra in the lead role, hit the screens today. Dive into our review to know how it fared.
Story:
Divya (Regina Cassandra) is a talented archaeologist, and the Nalgonda police department seeks her help to proceed with a murder case that occurred in a dense forest under suspicious circumstances. A shocking truth is uncovered during the investigation, followed by a series of murders. Who is the killer? What's the motive behind these brutal murders? Is Regina the culprit, or is it someone else? The movie will unfold this mystery.
Plus Points:
Regina Cassandra shines in the dual roles, particularly as Divya. Her engaging performance adds depth to the character and keeps the audience intrigued.
A notable highlight is Vennela Kishore's comedic prowess. His presence, especially in the first half, adds an enjoyable element to the movie. The humorous interactions between him and Regina evoke genuine laughs.
Jayaprakash's double-role performance is fine. He manages to do justice to both characters, contributing enough to the film. Thagabothu Ramesh's comedy in the initial part of the movie is a delightful addition.
Minus Points:
The main drawback revolves around the storyline. Writer and director Caarthick Raju's choice of an outdated concept proves to be a letdown. The film loses its initial momentum in the second half, failing to sustain the engaging setup of the first half.
Including a historical kingdom backdrop in the second half looks forced and uninteresting. This plot aspect becomes monotonous and fails to capture the audience's attention.
Regina's other character lacks the regal presence it deserves, affecting the overall impact. Her portrayal of serious scenes is unintentionally comical, undermining the intended effect.
Supporting characters, including Akshara Gowda, lack depth and fail to contribute meaningfully to the narrative. Their underdeveloped backstory is uninspiring and lagging. The film features two songs, and forget about them.
Technical Aspects:
Caarthick Raju's efforts as a writer and director fall short. The formulaic storyline and weak backstory hinder the movie's potential. Enhancements to the second half and the screenplay could have significantly improved the overall experience.
Sam CS's musical score disappoints, failing to effectively enhance the film's mood. Gokul Benoy's cinematography, although clean, lacks the necessary thrill factor, particularly in the first half.
Sabu Joseph's editing could have been tighter to maintain a more engaging pace. The makeup team's inability to capture a regal look for Regina is noticeable. The production values are average at best.
Verdict:
In conclusion, Nene Naa struggles as a silly, outdated and boring horror thriller. While Regina Cassandra's performance is okay, much more is needed to redeem the film's shortcomings. The movie lacks depth and substance for meaningful discussions. If you're looking to wrap up this weekend on a satisfying note, exploring other alternatives is advisable.
123telugu.com Rating: 2/5
Reviewed by 123telugu Team
Articles that might interest you:
Ad : Teluguruchi - Learn.. Cook.. Enjoy the Tasty food