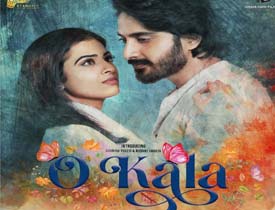 Release Date : April 13, 2023
123telugu.com Rating : 2.5/5
Starring: Gourish Yeleti, Roshni Sahota, Prachi Thaker, Devi Prasad & Others
Director: Deepak Kolipaka
Producer: Navya Mahesh M, Ranjith Kumar Kodali
Music Director: Neelesh Mandalapu
Cinematography: Akhil Valluri
Editor: Satya Giduturi
Related Links : Trailer
A small-budget film, O Kala, starring debutants Gourish Yeleti and Roshni Sahota in the lead roles, is now streaming on Disney Plus Hotstar. The film is directed by Deepak Kolipaka. Let's see how it is.
Story:
Harika (Roshhni Sahota) is an MBA marketing graduate. She establishes an advertising startup company with a motto to offer jobs to others. But her company faces bankruptcy due to a few reasons, and hence she decides to commit suicide. When Harika is about to commit suicide, she comes across a guy named Harsha (Gourish Yeleti) who changes her life all of a sudden. Who is this Harsha? How did he change Harika's fate? What happened later? This forms part of the rest of the film.
Plus Points:
O Kala mostly runs on conversations, and it is important that the actors have to be good enough to do justice to the script. The director has rightly cast Roshni and Gourish Yeleti as the lead characters. The lead pair has given a very neat performance in the film. One wouldn't get an iota of doubt that O Kala is their debut movie. Such is the finesse shown by both actors.
Roshni Sahota, a Hindi television actress, has sprung a surprise in her Tollywood debut. She is very expressive as Harika and got it right from her first scene. The way she emoted, her dialogue delivery, conviction, and body language are too good. Roshni will have a bright future in Telugu if she chooses good scripts.
Gourish Yeleti acted in a subtle manner without going overboard. The script actually demands Gourish to give a restrained performance, and the actor does that exactly in an appealing manner. O Kala deals with a relevant social issue, and the director conveys a nice message to the modern youth. This part has been handled in a sensible way by adding neat drama in the second half. Prachi Thaker and Devi Prasad are good in their respective roles.
Minus Points:
The movie runs totally on conversations between the lead pair, and this aspect is not everyone's cup of tea. Only a less segment of the audience might like this style of presentation, and hence others might find the film boring too.
The flashback episode of the male lead is somewhat boring and is a bit prolonged. There are some unnecessary comedy scenes that come here which could have been eliminated totally.
The first hour could have been designed in an even better manner. The director conveyed what he wanted to, but adding a few more impactful scenes between the lead pair could have taken the film to the next level. The length of the film could have been still shorter.
Technical Aspects:
The music by Neelesh Mandalapu is decent. The cinematography by Akhil Valluri is neat, and the visuals look cool. The editing team could have done an even better job, especially with the first half. The production values are good.
Coming to the director, Deepak Kolipaka, he has done an okay job with the film. Special mention to him for the topic he has chosen, which requires more public attention. Though the second half has key twists and decent emotions, the first half could have been handled way better. Nonetheless, the message was conveyed neatly.
Verdict:
On the whole, O Kala is a slow-paced drama film that has an important message for society. Roshni and Gourish made an impressive debut, and the director handled a few blocks well. But as mentioned earlier, the presentation style and slow narration may not appeal to everyone. Hence O Kala ends up being an okay watch.
123telugu.com Rating: 2.5/5
Reviewed by 123telugu Team
Articles that might interest you:
Ad : Teluguruchi - Learn.. Cook.. Enjoy the Tasty food