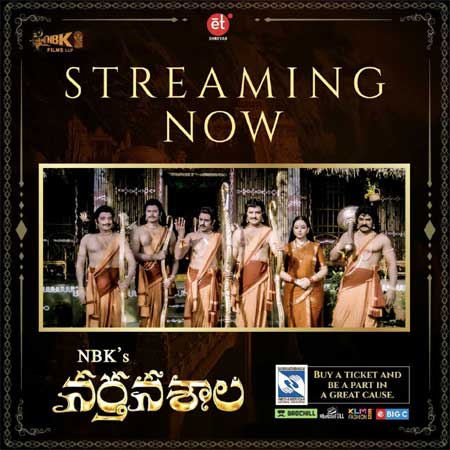 Cast: Nandamuri Balakrishna, Soundarya, Srihari, Sarath Babu and others.
Director: Nandamuri Balakrishna
Balakrishna fans and movie lovers were pleasantly surprised when the recently launched ATT app ShreyasET announced the release of Balayya's shelved directorial debut film, Narthanasala.
There has been a decent amount of hype and expectations on this mythological drama, as it would give all the fans a chance to witness Balayya's directorial skills and also see the departed legends Soundarya and Srihari one last time on the screen.
The unfinished film has been released today as a 16 minute short film. Let's see how the film is.
Story:
Balayya's Narthanasala begins with his legendary father NT Ramarao's iconic dialogue in which he explains the significance of Vijaya Dasami. The film's story is all about the Pandavas, after completing the 12 years of exile in the forest along with their wife Draupadi, choosing their disguised avatars for the remaining 1 year of incognito life until the Vijaya Dasami festival. If caught, they will have to repeat another exile of 13 years if anyone spotted their real identities.
Plus Points:
The only plus point of Balayya's Narthanasala is that it's a mythological drama. It's a slightly refreshing experience to move away from the usual action thrillers and romantic comedies and travel back in time to witness the crucial part of the Virata Parva in the epic Mahabharata. And who else apart from Balakrishna from the current generation actors can offer this experience to movie lovers.
Like we have mentioned above, fans get to see the legendary yesteryear actress Soundarya and the departed character artiste Srihari one last time, even though their screen presence is limited in the movie.
Minus Points:
First things first, Balayya's Narthanasala, although is of 16 minute duration, hardly lasts about 8 minutes, as the rest of the movie has the footage from NT Ramarao's Narthanasala.
There's nothing much to rave about Balayya's direction in these 8 minutes. Also, it's not appropriate to judge his directorial skills based on a small chunk of an unfinished work.
It's a bitter feeling when we realise that NTR's Narthanasala footage has been clubbed with Balayya's Narthanasala to cook up a coherent narrative, but the effort falls flat. Balayya's Top Hero dance bit in the end to give a proper conclusion to his character and thus the film is ridiculous.
Technical Aspects:
The production values are not grand but adequate, as the scenes were shot in a forest backdrop. The dialogues are functional. Cinematography and background score don't make much impact in this verbose setting.
Short Analysis:
At the end of the movie, we are left with mixed feelings. While the emotions are high upon seeing Soundarya's last act and Srihari once again, the overall experience doesn't make up for the Rs 60 spent. Instead of calling it a short film, they should have just released it as 'unseen footage from Narthanasala'.
Articles that might interest you:
Ad : Teluguruchi - Learn.. Cook.. Enjoy the Tasty food