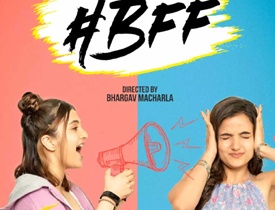 Release Date : May 20, 2022
123telugu.com Rating : 2.5/5
Starring: Siri Hanmanth, Ramya Pasupleti, Praneeta Patnaik
Director: Bhargav Macharla
AHA is churning out back-to-back OTT shows and next in line is BFF. Starring Siri Hanmanth and Ramya Pasupleti, this show is now streaming, and let's see how it is.
Story:
Nithya Kothari(Siri Hanmanth) and Tara Yadav(Ramya Pasupleti) are two roommates who are modern and lead independent lives in Hyderabad. They both work and have strong opinions about life. The story of the show is about how they face small-time issues in life and how their friendship takes a beating after a while.
Plus Points:
Siri of Bigg Boss fame is the major attraction of the show. She looks settled and makes some sense in the whole setup. Siri looks pretty and carries her modern yet grounded girl role with ease.
Ramya Pasupleti plays one more lead is just about okay. It will take some time to adjust to her performance and screen presence but does well as the show progresses. Anchor Anjali as Siri's mother was good. The way modern girls lead lives in a metro like Hyderabad has been showcased well.
Minus Points:
BFF is the adaptation of the English show Adulting and is a bad remake. The two principal characters do not have emotional bonding at all. There are not many scenes that show that they are good friends who stay together. There is no chemistry between the girls and this is where the show goes down.
Tara's character is made to look so loud in various scenes. The way Tara smokes, talks, and tries to behave like a no-nonsense girl looks fake on screen. Also, there is no conflict point in the show and the emotional bonding be it fun or seriousness, nothing is brought out well.
Each episode run on a flat note and addresses silly issues. There are routine office issues shown which have no fun. As the show is about two young girls, there was so much scope for romance and drama. But the director showcases the show in a pale and simple manner. The house owner, creepy boss, and other facets of the show do not create any interest.
Technical Aspects:
Most of the show happens in an apartment and credit should go to the cameraman for showcasing the proceedings in a posh manner. Siri has been styled quite well. The BGM is not that great and so was the editing. A simple story is dragged for no reason.
Coming to the director Bhargav Macharla, he has done a disappointing job with the series. The first season is all about the lives of the two girls and only in the last episode, does he bring a tiff between the two friends. Also., for the girls to have difference of opinion, there should have been a strong bond from the beginning which does not happen. Apart from this, the show goes on and on and is ended abruptly just for the second season's sake.
Verdict:
On the whole, BFF is a comedy-drama about two modern girls. There is no emotional connection and has been narrated in a very dull manner. The characters are loud and the only solace of the show is Siri Hanmanth who looks beautiful and makes some sense. Apart from this, this show does not showcase anything new and can be ignored this weekend.
123telugu.com Rating: 2.5/5
Reviewed by 123telugu Team
Articles that might interest you:
Ad : Teluguruchi - Learn.. Cook.. Enjoy the Tasty food
TAGS:
BFF Rating
,
BFF Review
,
BFF Review and Rating
,
BFF Telugu series on AHA Rating
,
BFF Telugu series on AHA Review
,
BFF Telugu series on AHA Review and Rating
,
BFF Telugu series Rating
,
BFF Telugu series Review
,
BFF Telugu series Review and Rating
,
Praneeta Patnaik
,
Ramya Pasupleti
,
Siri Hanmanth