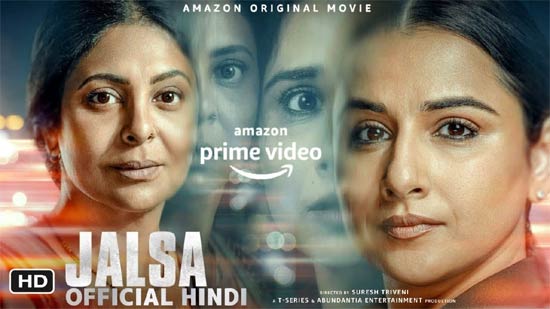 Release Date : March 18,2022
123telugu.com Rating : 2.75/5
Starring: Vidya Balan, Shefali Shah, Rohini Hattangadi, Surya Kasibhatla, Manav Kaul, Kashish Rizwan, Shafeen Patel, Vidhatri Bandi, Mohammad Iqbal Khan, Ghanshyam Lalsa, Shrikant Mohan Yadav, Junaid Khan
Director: Suresh Triveni
Producers: Bhushan Kumar, Krishan Kumar, Vikram Malhotra, Shikhaa
Music Director: Gaurav Chatterji (Thehar)
Cinematography : Saurabh Goswami
Editor: Shivkumar V. Panicker
Vidya Balan is back with one more film on Amazon. Titled Jalsa, this film also has Shefali Shah in a key role. The psychological drama is out on Prime Video and let's see how it is.
Story:
Maya Menon is a top media baron in Mumbai. One fine day, she crashes her car and injures a very young girl. She escapes home and uses all her might to get out of the case. The twist in the tale arises when Maya comes to know that the girl she hit is none other than the daughter of her own housemaid Ruksana(Shefali Shah). What will Maya do now? How will she confront Ruksana? What happens at the end? That forms the story of Jalsa.
Plus Points:
Jalsa is filled with some terrific performances. Vidya Balan leads from the front and is splendid in the role of Maya. The role demanded her to be tense most of the time and not show it on her face. This aspect has been showcased in a beautiful manner by Vidya. The reactions that Vidya gives after the hit and run case is just superb.
Yet another stellar performance of the film is given by Shefali Shah. She gets a good role of a poor maid and gives an emotional performance. Shefali saves the best for the last half an hour and is amazing with her emotional outburst. The story idea and the way conflict is brought between the owner and her maid look very interesting.
Minus Points:
After creating so much drama. one would be waiting to know how Maya who had hit her own maid's daughter would confront her crime. But that is not shown and the film is ended on a simple note disappointing the audience.
Also, the way the cops handle this case looks a bit over the top in a few areas. The film has a slow pace and takes its own time to reach a conclusion. This might affect a section that likes racy thrillers.
Technical Aspects:
The production values of the film are top-notch and the camerawork showcases Mumbai in a new manner. There are not many characters involved and the mood created by the solid BGM is amazing. Dialogues are superb and so was the editing. Coming to the director Suresh Triveni, he has done a decent job with the film. Barring the lethargic climax, he keeps the intriguing factor intact and narrates the film on a good note.
Verdict:
On the whole, Jalsa is a psychological drama that has a very interesting storyline and is narrated in a decent manner. However, the climax is rushed and ended without a proper conclusion. Barring this, Jalsa has enough moments that can be savored and makes up for a passable watch on Amazon Prime.
123telugu.com Rating: 2.75/5
Reviewed by 123telugu Team
Articles that might interest you:
Ad : Teluguruchi - Learn.. Cook.. Enjoy the Tasty food
TAGS:
Ghanshyam Lalsa
,
Jalsa Hindi Movie Review
,
Jalsa Hindi Movie Review and Rating
,
Jalsa Movie Review
,
Jalsa Review
,
Jalsa Review and Rating
,
Junaid Khan
,
Kashish Rizwan
,
Manav Kaul
,
Mohammad Iqbal Khan
,
Rohini Hattangadi
,
Shafeen Patel
,
Shefali Shah
,
Shrikant Mohan Yadav
,
Surya Kasibhatla
,
Vidhatri Bandi
,
Vidya Balan