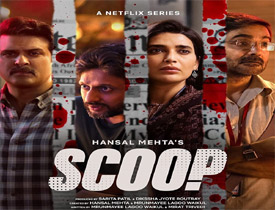 Release Date : June 02, 2023
123telugu.com Rating : 3.25/5
Starring: Karishma Tanna, Mohammed Zeeshan Ayyub, Prosenjit Chatterjee, Harman Baweja, Tannishtha Chatterjee, Jamini Pathak, and Deven Bhojani
Director: Hansal Mehta
Producers: Matchbox Shots
Music Director: Achint Thakkar
Cinematography: Pratham Mehta
Editor: Amitesh Mukherjee
Related Links : Trailer
Hansal Mehta, the man behind one of the critically acclaimed web series, Scam 1992, has come up with yet another web series named Scoop. Just like Scam 1992, Scoop is also based on real-life incidents of prominent journalist Jigna Vora. The book "Behind Bars in Byculla: My Days In Prison" penned by Jigna Vora, inspired Hansal Mehta to create this show. Karishma Tanna played Jigna Vora in the series. The names of a few individuals based on whom the series has been made get different screen names in the show.
Story:
Jagruthi Pathak (Karishma Tanna) is a Senior Crime Journalist and Deputy Bureau Chief at Eastern Age newspaper. She reaches new heights in her career as she has a solid network. Jagruthi has a good rapport with JCP Harshavardhan Shroff (Harman Baweja), who often tips her off about many crimes. Jagruthi also has the support of her Editor-In-Chief, Imran (Mohammed Zeeshan Ayyub), due to which her colleagues envy her. Jaideb Sen, aka Dada (Prosenjit Chatterjee), a renowned journalist working at News Day, gets murdered in daylight. Gangster Chhota Rajan claims he killed him, and a phone call conversation makes Police believe that Jagruthi instigated Chhota Rajan to murder Jaideb Sen. Who actually killed Jaideb? Was it Jagruthi behind Jaideb's murder? What happened next? This forms part of the crux of the story.
Plus Points:
Creating intriguing content based on real-life incidents is not a simple task, and Hansal Mehta has again hit it out of the park with Scoop. Though Scoop is based on a book, it is clear that a lot of research has gone into the making. Scoop nicely immerses us into the world of the media industry. The show is successful in depicting how journalists get exclusive stories from cops and gangsters and how it might affect their lives in turn.
The makers need to be appreciated for the way they showcased Police- Dawood Ibrahim nexus without any apprehensions. The world-building has been done in an excellent manner, and within no time, we get involved in the series and with the characters. The casting was superb, and everyone did a phenomenal job.
Karishma Tanna has given a spectacular performance in Scoop. Rarely do actors get roles like Jagruthi, and the talented actress grabbed this opportunity with both hands. The series is sure to speak volumes about her acting prowess as she emoted quite beautifully in many sequences.
Mohammed Zeeshan Ayyub was too good as the Editor-In-Chief, and he lent nice support to Karishma Tanna. He brings the required depth to Scoop with his masterful performance, leaving us wanting to see more of him. Prosenjit Chatterjee, Harman Baweja, and Inayat Sood are solid in their respective roles.
The cherry on the cake was Jamini Pathak, who played lawyer Chintan Vashist. Just when the show is getting slow, he makes a remarkable impression with his fantastic and captivating performance. All the courtroom scenes involving him in the final episode are powerful as well as entertaining.
Minus Points:
While the show has a considerable number of favorable aspects, the pacing gets slowed down in the fifth and sixth episodes. The editing in the last two episodes could have been much better as the impact gets weakened here due to excessive length. The jail scenes portray how the female reporter faced a lot of struggle, but a certain section of the audience might find these sequences tough to watch.
At times it feels like the show is filled with way too much information and technical jargon that would be difficult to process for normal audiences. The Pushkar character's family angle could have been totally avoided as it doesn't add much to the narrative.
Technical Aspects:
Scoop scores high on technical aspects as well. The background score by Achint Takkar is thumping, and Pratham Mehta's camera work is pretty good. The dialogues written by Karan Vyas are smart and thought-provoking. The editing for the first four episodes was good, but it was below par in the last two episodes. Deepu Sebastian Edmond's thorough research work was neatly complemented by the terrific writing of Mirat Trivedi and Mrunmayee Lagoo Waikul.
Coming to the director, Hansal Mehta, he has done an impressive job with Scoop. The way he fearlessly portrayed some astonishing facts and the functioning of the media industry is commendable. The drama is solid, and he extracted the best from all his actors. The fifth episode, however, could have been better.
Verdict:
On the whole, Scoop is a compelling portrayal of a real-life crime. The show has got many things going its way. Karishma Tanna breathes life into the journalist role, and she is ably supported by Mohammed Zeeshan Ayyub, Prosenjit Chatterjee, Harman Baweja, Inayat Sood, and Jamini Pathak. Hansal Mehta has once again shown his mastery after Scam 1992. If you could ignore the slow pacing in the last two episodes and the dark jail scenes, Scoop is a binge-worthy web show. Recommended.
123telugu.com Rating: 3.25/5
Reviewed by 123telugu Team
Articles that might interest you:
Ad : Teluguruchi - Learn.. Cook.. Enjoy the Tasty food