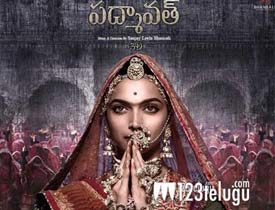 Release date : January 25, 2018
123telugu.com Rating : 3.5/5
Starring : Deepika Padukone, Shahid Kapoor, Ranveer Singh
Director : Sanjay Leela Bhansali
Producer : Sanjay Leela Bhansali, Sudhanshu Vats, Ajit Andhare
Music Director : Sanjay Leela Bhansali, Sanchit Balhara
Cinematographer : Sudeep Chatterjee
After a lot of controversies, Sanjay Leela Bhansali's magnum opus, Padmaavat is ready to hit the screens this Friday. We had been to a special screening and bring you the detailed review in advance.
Story:-
Afghani ruler, Allauddin Khilji(Ranveer Singh) invades India and becomes the ruler of the Delhi empire. After a point of time, he decides to invade the Rajput town of Chittor after he comes to know about the beautiful Rani Padmavati(Deepika Padukone). But to win her over, he needs to dethrone her husband Raja Ratan Singh(Shahid Kapoor) at any cost. How will he do this and what problems does he face in is the entire story of Padmaavat.
Plus Points:-
Padmaavat works big time because of one man and that is undoubtedly Ranveer Singh. The star hero unleashes the beast in him and is mind-blowing as the arrogant Khilji. Every frame that he is in, creates a deadly feeling and Ranveer has showcased valor, cunningness, and cruelty in a stunning manner. The plot works mainly because of his screen presence and aggressiveness to win Padmavati.
As in every Sanjay Bhansali movie, Padmavat is filled with mind-blowing visuals. The set work, costumes and the way the film has been shot is just terrific. There is grandness personified throughout the film. Deepika Padukone brings a lot of depth to the film. Even though her character starts on a dull note, she takes full charge during the climax and wins the hearts of many.
Coming to Shahid Kapoor, he has also done a decent job and has managed to face Ranveer Singh in an impressive way. His role is more of a supporting actor as he gets less chance to perform. The interval bang is just terrific and creates a suspense factor as well.
Background score needs a special mention as it elevates the film to another level altogether. The film is filled with terrific drama and scenes between Shahid Kapoor and Ranveer Singh have been executed quite well.
Minus Points:-
The film is a bit lengthy. Things get a bit bogged down as certain scenes in the first half drag the story a bit. All those who feel that the film will have more war scenes and amazing fights will be quite disappointed as the film is a hard-hitting historical drama.
Generally, Bhansali's films have amazing music but Padmaavat has just average music which is a huge drawback. Except for one song, rest of the songs are just about okay. A lot of fiction has been added to this historical drama and many scenes might look illogical at times.
Technical Aspects:-
Padmaavat is technically brilliant. Every penny spent on the film shows on screen. Credit should go to the art direction department for a splendid job. The Muslim empire, Ranveer Singh's dugout, and costumes have been designed in a stunning way. Camera work by Sudeep Chatterjee is just amazing. The way he showcases the Hindu culture and Rajput empire looks too good on screen. The Telugu dubbing done for the film is pretty decent.
Coming to the director Sanjay Leela Bhansali, he once again proves that he is the true showman of Bollywood. His urge for grandeur and showcasing larger than life stories is at its best in Padmaavat. The way he narrates the proceedings with riveting drama and mind-blowing performances prove what a master craftsman he is. The way he showcases the Hindu culture through an amazing climax ends the film on a thumping note.
Verdict:-
On the whole, Padmaavat is an extravagant historical drama which works in every which way. The hard-hitting drama, grandeur and terrific performances will surely leave you highly impressed. Ranveer Singh single-handedly carries the film on his shoulders and is a treat to watch on screen. The film will surely do exceptionally well in Bollywood as it matches the sensibilities of Hindi audience quite well. But for the Telugu audience who expect a bit of heroism and good action episodes, the film will be a decent watch for them. Finally, if you are the one who does not mind all the above-said things and loves watching larger than life films, Padmaavat is a film that should not be missed.
123telugu.com Rating : 3.5/5
Reviewed by 123telugu Team
Articles that might interest you:
Ad : Teluguruchi - Learn.. Cook.. Enjoy the Tasty food
TAGS:
Deepika Padukone Padmaavat Telugu Movie Review
,
Padmaavat Cinema Review
,
Padmaavat Film Review
,
Padmaavat Movie Review
,
Padmaavat Movie Review in Telugu
,
Padmaavat Review
,
Padmaavat Review and Rating
,
Padmaavat Telugu Cinema Review
,
Padmaavat Telugu Movie Review
,
Padmaavat Telugu Review
,
Padmaavat telugu Review and Rating
,
Padmaavathi Telugu Movie Review
,
Padmaavati Telugu Movie Review
,
Shahid Kapoor Padmaavat Movie Review