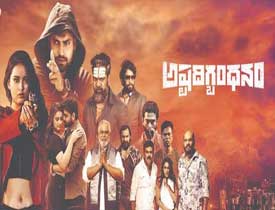 Release Date : September 22, 2023
123telugu.com Rating : 2.5/5
Starring: Surya Bharath Chandra, Vishika Kota, Mahesh Ravul, Ranjith Narayan Kurup, Viswender Reddy, Roshni Razak, Mani Patel, Naveen Kumar Gattu, and others
Director: Baba PR
Producer: Manoj Kumar Agarwal
Music Director: Jackson Vijayan
Cinematographer: Babu Kollabathula
Editor: Satya Giduturi
Related Links : Trailer
A small movie titled Ashtadigbandhanam, written and directed by Baba PR, has released in theaters today. Check out our review to know how the movie is.
Story:
Shankar Goud (Mahesh Ravul) is a loyal assistant to MLA Sri Ramulu (Viswender Reddy). Shankar wants to contest in the upcoming elections, but the MLA challenges him to arrange 50 crores for the ticket. To achieve this, Shankar and his group plan to rob a bank and seek help from Gautham (Surya Bharath Chandra), who urgently needs money for his wife Priya's (Vishika Kota) medical treatment. Did they succeed in robbing the bank? Who is Gautham? Did Shankar become a politician? These questions are answered in this movie.
Plus Points:
The film's story is interesting, filled with twists and turns that will keep you hooked from beginning to end. Writer-director Baba PR skillfully weaves in surprises at the right moments.
Mahesh Ravul delivers an impressive performance as Shankar, effectively portraying his villainous side through his expressions. Ranjith Narayan Kurup, who plays Chakri, a police sub-inspector, also does a commendable job.
Lead actor Surya Bharath Chandra gives a solid performance, and the rest of the cast fulfil their roles adequately.
Minus Points:
While the movie's story is intriguing, it may remind you of some old films. The director's attempts to captivate the audience are visible, but a tighter screenplay could have made the overall experience even better.
Better casting choices could have greatly improved this crime drama. Some characters in the film fail to engage the audience due to weak performances. Investing more in improving their acting skills could have made a significant difference.
The film's songs are forgettable and fail to leave a lasting impression once you leave the theater. The dialogues, too, could have been more thoughtfully crafted, as they often feel routine.
Technical Aspects:
Writer-director Baba PR's storytelling skills are decent but could benefit from an even more engaging narration. A well-crafted screenplay could have intensified the impact of the plot twists, creating a more gripping and suspenseful viewing experience.
The contributions of Jackson Vijayan (music) and Babu Kollabathula (cinematography) could have been more captivating to enhance the film's appeal. Editor Satya Giduturi leaves some unfinished work in both halves of the film, and trimming unnecessary portions could have improved the movie's overall quality.
Verdict:
On the whole, Ashtadigbandhanam is a crime drama with an interesting story but falls short in terms of its screenplay. While the performances of Surya Bharath Chandra, Mahesh Ravul, and Ranjith Narayan Kurup are admirable, the film suffers from casting issues and occasional pacing problems. Despite these flaws, it's worth considering watching the film this weekend, but keeping your expectations in check is advisable.
123telugu.com Rating: 2.5/5
Reviewed by 123telugu Team
Articles that might interest you:
Ad : Teluguruchi - Learn.. Cook.. Enjoy the Tasty food
TAGS:
Ashtadigbandhanam Movie Rating
,
Ashtadigbandhanam Movie Review
,
Ashtadigbandhanam Movie Review and Rating
,
Ashtadigbandhanam Rating
,
Ashtadigbandhanam Review
,
Ashtadigbandhanam Review and Rating
,
Ashtadigbandhanam Telugu Movie Rating
,
Ashtadigbandhanam Telugu Movie Review
,
Ashtadigbandhanam Telugu Movie Review and Rating
,
Mahesh Ravul
,
Ranjith Narayan Kurup
,
Surya Bharath Chandra
,
Vishika Kota