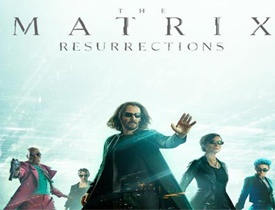 Release Date : December 22,2021
123telugu.com Rating : 2.5/5
Starring: Keanu Reeves, Carrie-Anne Moss, Priyanka Chopra, Jessica Henwick, Yahya Abdul-Mateen II, Jonathan Groff, Neil Patrick Harris and others.
Director: Lana Wachowski
Producers: Grant Hill, James McTeigue and Lana Wachowski
Music Director: Johnny Klimek and Tom Tykwer
Cinematography : Daniele Massaccesi and John Toll
Editor: Joseph Jett Sally
The Matrix: Resurrections is the 4th installment in the extremely popular Matrix franchise. The latest sci-fi thriller was released today amid sky-high expectations. Check out our review.
Story:
Thomas Anderson(Keanu Reeves) is the world-famous 'Matrix' video game developer and also a troubled therapy seeker. Unfortunately, he forgets his past as Neo(widely known as 'The One'). Besides, Trinity, who is now called 'Tiffany,' is married to someone else and fails to recognize Neo. In the meantime, the Matrix is highly upgraded and human-savior, Bugs,(Jessica Henwick) with the help of her new team is looking for Neo. How will the team find him? and what Neo does to bring back his life savior, Trinity? That forms the crux of the story.
Plus Points:
The movie offers the audience so many nostalgic moments from earlier parts. The famous 'Take the Red Pill' moment and the stunts performed by the lead pair will impress the audience for sure.
Keanu Reeves and Carrie-Anne Moss gave their best. Jessica Henwick wins the hearts as a brave fighter, Bugs and Indian actor Priyanka Chopra too performed well in her role.
Minus Points:
As The Matrix: Resurrections is coming after 18 years, the audience expected more from the franchise. The story failed to impress the audience as it is not about making humans live in peace but about saving Trinity who was imprisoned by The Analyst (Neil Patrick Harris).
Revamped Morpheus (Yahya Abdul-Mateen II) and Smith (Jonathan Groff) failed to impress audiences as their roles are not etched well and fail to elevate the proceedings. The audiences will surely be disappointed because they expected more action from this reboot movie and sadly, that does not happen.
Technical Aspects:
Director Lana Wachowski, who also helmed the previous installments, hardly manages to make the flick a gripping one. The cinematography by Daniele Massaccesi and John Toll needs to be appreciated. The background score is also quite impressive. VFX is also very good. In terms of production values, you can feel the richness of the world of Matrix and the saviors' new home, Io.
Verdict:
On the whole, The Matrix: Resurrections offers nothing new apart from a few attractive stunts of Neo and Trinity in the climax. Even if you are a big fan of this franchise, you will surely end up in disappointment as it does not meet your expectations and ends as a dull ride.
123telugu.com Rating: 2.5/5
Reviewed by 123telugu Team
Articles that might interest you:
Ad : Teluguruchi - Learn.. Cook.. Enjoy the Tasty food
TAGS:
Carrie-Anne Moss
,
Jessica Henwick
,
Jonathan Groff
,
Keanu Reeves
,
Neil Patrick HarrisThe Matrix: Resurrections Review
,
Priyanka Chopra
,
The Matrix: Resurrections English Movie Review
,
The Matrix: Resurrections Movie Review
,
The Matrix: Resurrections Review and Rating
,
The Matrix: Resurrections Telugu Movie Review
,
The Matrix: Resurrections Telugu Movie Review and Rating
,
Yahya Abdul-Mateen II