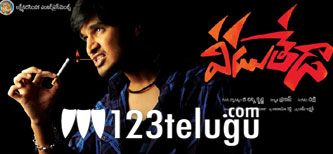 Release date: 18 November 2011
123Telugu.com Rating : 2.5/5
Direction : B Chini Krishna
Producer : Prakash Babu
Music Director : Chakri
Cast: Nikhil Sidharatha,Pooja
Nikhil is being seen in a lot of small budget movies these days with mixed success. He is now hitting the screens once again with 'Veedu Theda'. The movie has been directed by B.Chinni Krishna and Prakash Babu is the producer. Pooja is the heroine for this project.
Story :
Katthi Seenu ( Nikhil ) is a carefree and brash youth from Tirupati, who lives with his Bava (Krishna Bhagawan) and Akka (Hema). A chance friendship with Love Kumar (Ali) leads him to Bheemavaram, where he comes across Meghana (Pooja). It is love at first sight for Seenu but Meghana does not reciprocate.
As the story progresses, it is revealed that Meghana has a past that is connected to the notorious don Liquor Shankar ( Shayaji Shinde ) and a jailed convict Das (Suman). They start pursuing Meghana and it is now upto our hero Seenu to step in as the saviour.
Why do the goons pursue Meghana? What connection does she have with them? That forms the rest of the story.
Plus Points :
Nikhil's energy levels are good in the movie. His dance in the first song is impressive as he tries out some nice movements. Some of his punch dialogues have come out well.The important thing to remember here is the word 'some' (more on this later).
The comedy bits involving Raghu Babu as Yugandhar, M.S.Narayana as Pachi Pulusu Nageswara Rao and Ali as Love Kumar are good in parts. M.S.Narayana's spoofs on Telugu Cinema Heroes work to some extent. The spoofs on Mahesh Babu's Khaleja character and Pawan Kalyan's Puli character have come out well. Hema looks good in the brief role that she has.Venu Madhav is just about ok.
Minus Points :
Pooja Bose is a big letdown. She neither looks ravishingly beautiful nor does she know how to act. This is a very very outdated film with bad dialogues, silly comedy and wasted artistes. Some of Nikhil's dialogues work, but most of them sound 'over the top'. The script is full of ridiculous loopholes and there is absolutely no logic in many of the scenes that unfold in the second half.
All the above said errors can be forgiven if the comedy works out well. But except for a few funny scenes, most of the comedy sequences will leave you scratching your head. Master Bharat has been wasted in an atrocious role as Abbay Raju. Same is the case with Brahmanandam. The minuscule and stupid role of 'Banana Baba' is an insult to an artiste of Brahmanandam's calibre. Geeta Singh is silly.
Krishna Bhagawan's performance gives you the impression that he regrets accepting the role.
The first half is slow and tests the patience. Second half picks up in pace, but is let down by some silly comedy and excessive melodrama that does not work.
Technical Aspects:
Cinematography is just about ok. Production values are on par for a movie of this budget. Director B.Chinni Krishna does a poor job and the movie could have been handled much better. Chakri's music is passable and there is hardly any number worth remembering. Editing is shoddy.
Dialogues are a major minus. They are cliched, repetitive and poor.
Verdict :
This is a movie that can be safely avoided. It would have been a complete disaster if not for some moments of fun provided by M.S. Narayana, Raghubabu and Ali. There is nothing in the movie that merits a visit to the theater.
– M S K
123telugu.com Rating: 2.5/5
Legend: 5 – Flawless
4 – Must Watch
3 – One Time Watch
2 – Wait for the DVD
1 – Stay Away
Articles that might interest you:
Ad : Teluguruchi - Learn.. Cook.. Enjoy the Tasty food