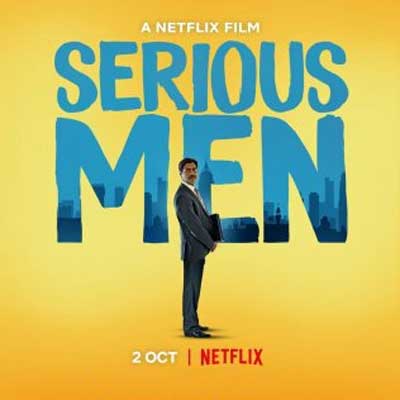 Starring : Nawazuddin Siddiqui, Indira Tiwari, Nassar, Aakshath Das
Directed by : Sudhir Mishra
Producers : Sudhir Mishra, Bhavesh Mandalia, Sejal Shah
Music by : Karel Antonin
Cinematography : Alexander Sukala
Edited by : Atanu Mukherjee
So, continuing the series of reviewing movies and shows during the lockdown period, our today's pick is the Hindi film Serious Men. The film is available on Netflix and let's see how it is.
Story :
Ayyan Mani(Nawazuddin Siddique) is a Tamil Dalit who is always looked down upon by his renowned astrophysicist boss Aravind Acharya(Nassar). He leads a miserable life and decides that his son should not go through the troubles which he faced in life. So, once his son turns ten, Ayyan develops an outrageous lie that his son is a genius. The TV channels, social media take things to another level here by creating more problems for Ayyan. What lie did Ayyan create? and how will he come out of it is the whole story of the film?
What's Good
Like in all films, Nawazuddin Siddique does an amazing job. He lives the role of Ayyan Mani to the fullest. The way he showcases the frustration of being a Dalit and how he changes things in the latter half with grit and screen presence is quite solid. His comedy timing is also solid in the film.
Akshat Das, who plays Nawaz's son is also superb as the fraud kid. Nasser is a treat to watch in his arrogant role. The production values of the film are pretty good. The manner in which the backward castes are looked down upon in society is showcased superbly. Dialogues are amazing and the racy screenplay in the second half is good.
What's Bad
The film is a satire on the upper and lower castes and some dialogues and scenes might no go well with a section of the audience. The film takes a lot of time to go into the main plot. A ten-year-old kid becoming such famous because of his genius skill, this episode has been dragged a bit more. The pace of the film is also a bit slow in several places even though it is only two hours long.
Final Verdict :
On the whole, Serious Men is a film that has a serious subject of how a person looked down upon tries to achieve fame by cheating. Nawazuddin Siddique's superb performance, a tight first half, and endearing emotions are basic assets. But the film takes a lot of time to get into the actual point. If you manage to sit through this, Serious Men ends as a passable watch this lockdown period.

Rating: 2.75/5
Articles that might interest you:
Ad : Teluguruchi - Learn.. Cook.. Enjoy the Tasty food