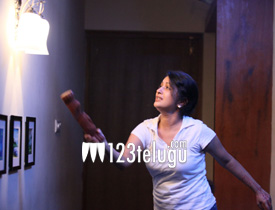 Release date : October 9, 2015
123telugu.com Rating : 2.75/5
Director : Shajiyem
Producer : D.Venkatesh
Music Director : Ramesh Narayan
Starring : Meera Jasmine
Meera Jasmine's Malayalam horror thriller 'Ms Lekha Tharoor Kaanunnathu' has been dubbed into Telugu as 'The Eyes'. The film is gearing up to hit the screens on October 9th. We have watched an exclusive premier show of the film and bring you the review much in advance.
Story :
Chandra Lekha (Meera Jasmine ),loses her vision at a very young age. She works hard for her living and as time passes by, luck strikes her big time and she gets back her vision through an eye donation.
Twist in the tale arises when she starts foreseeing some disturbing events with her new pair of eyes. Left with no choice, she starts inquiring about the person who donated his eyes to her.
During her inquiry,Lekha comes to know certain shocking facts regarding her eyes. What are those shocking facts ? How will Chandra Lekha come out of this unusal situtation? To know answers to these questions, you have to watch the film on big screen.
Plus Points :
The novel storyline and the gripping narration are the major plus points for the film. The director has marginally succeeded in keeping the audience hooked till the completion of the film.
Meera Jasmine did a fantastic job in her role and she was ably supported by the remaining cast who did complete justice to their roles.
The interval bang is nice and the interesting episodes in the second half are very well handled. The pre-climax episode is executed in a decent way and has a interesting feel.
Minus Points :
The first twenty minutes of the film is very slow as certain scenes take an unreasonable time to complete. The flashback episode is a huge let down and the graphics are not up to the mark.
A few unnecessary scenes take center stage in both the halves to hamper the free flow of the proceedings. Some crucial scenes lack connection and tend to be illogical.
Technical Aspects :
Due credit should be given to director Shajiyem for scripting a unique storyline and narrating it in a gripping way. His screenplay is also very impressive.
Cinematography by Chandramouli is good. Music and background score by Ramesh Narayanan suits the mood of the proceedings. Shashank Vennela Kanti did a nice job with his dialogues. Editing is OK and the production values are decent.
Verdict :
On the whole, 'The Eyes' is interesting only in bits and pieces. The novel script and a new age story telling are the major assets. But the lack of necessary commercial elements and a slow narration during the second half hampers the free flow of the film. Watch it only if you have nothing else to do or wait for it to come on TV.
123telugu.com Rating : 2.75/5
Reviewed by 123telugu Team
Articles that might interest you:
Ad : Teluguruchi - Learn.. Cook.. Enjoy the Tasty food