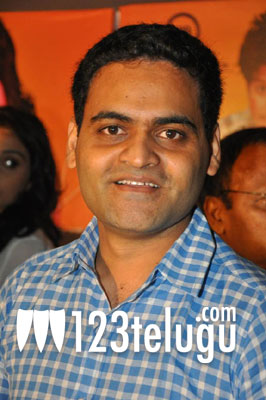 Praveen Sattaru is a director who made 'LBW' or 'Life Before Wedding' sometime back and the film earned him recognition. He is now all set for the release of his latest project 'Routine Love Story'. Armed with a degree in Electrical and Electronics Engineering, Praveen had a promising career as an SAP Consultant with IBM. Read on to find out why he gave up his lucrative career for film making and what he expects from 'Routine Love Story'.
Q. Why did you give up a promising IT career for films? What was the motivating factor?
A. When I was in the US, I had a lot of Tamil and Kannada friends apart from Telugu guy. Whenever we had a discussion about the best films in Telugu, Tamil and Kannada, I always used to end up referring to K. Vishwanadh's films or a handful of other movies. It made me realize that we do not have 'good films' in Telugu. I penned a couple of scripts during my free time and my friends really liked the ideas. Around this time, I also got bored with life in the USA. All these things triggered my return to India and my switch to a new career in film making.
Q. You have named the film 'Routine Love Story'. Will there be anything routine about it?
A. 'Evadi love story vadiki variety ga ne untundhi. Chuse vallaki matrame routine ga untundhi'. For any couple, their story will be unique and it will be routine for observers. I have based my film on this point. That is why I named my film 'Routine Love Story'. There will be a deep focus on the relationship between two people in this movie. Moments of happiness, quarrels and fights will all be a part of the love story in my movie
Q. Your first film LBW also focuses a lot on the relationships between people right?
A. LBW is a more serious and intense film that deals with the emotions between people. RLS on the other hand, is more light hearted and has a generally humorous feel throughout. So the two films are actually quite different.
Q. Your films seem to be made for urban audiences and A center crowds. Is it your strategy?
A. I believe that there is no A center film and B center film. I believe that people connect with the emotions in a film and if the emotions are right, A, B and C center differences dont matter. Both my films are set in an urban environment and that is perhaps the reason for this A center image.
Q. How did you end up picking Sundeep Kishan for RLS?
A. We wanted someone without a chocolate boy image. Sundeep proved himself in 'Prasthanam' and I wanted someone who could act well. After this film, people will talk about Sundeep Kishan for his performance in RLS and not for his performance in 'Prasthanam' (Smiles)
Q. What about Regina?
A. She is a natural performer. I saw her performances in her Tamil short films and decided to cast her in my movie. She understands the scene very quickly and brings in her own talent to the proceedings. She will be a big star in the near future.
Q. Any bad experiences or bitter lessons you picked up during the production of your first film?
A. Yes, I picked up quite a few. In fact, RLS is the by product of the frustration I experienced during LBW's production. I faced many problems in marketing and release. As I had no previous experience in the distribution of a film, I could not reach out to my target audience well. I am taking care of that with RLS. We are promoting our film aggressively this time and we want to reach out to people in rural areas as well.
Q. How is your experience with Micky J Meyer?
A. Music is a key part of any romantic film and Micky has delivered well here. If you listen to the tunes, they are very pleasant. The songs will look great on screen and they have been integrated seamlessly into the story. Micky is an asset for this movie.
Praveen Sattaru is very confident about his work with RLS and we winded up our chat with him on that note. The movie is being aimed for a November 23rd release.
Interviewed by Ashok Reddy M
(English translation by Emmess)
Articles that might interest you:
Ad : Teluguruchi - Learn.. Cook.. Enjoy the Tasty food