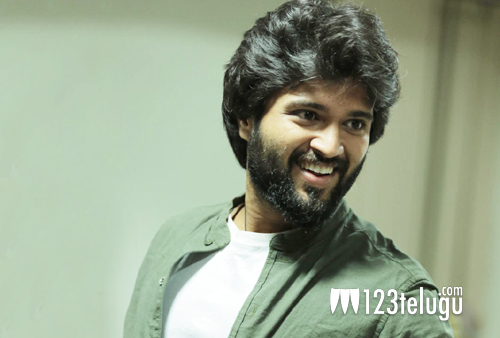 Young actor, Vijaya Devarakonda impressed everyone with his brilliant performance in Yevade Subramanyam. After a brief gap, he has come up with yet another interesting role in the recently released film Pelli Choopulu. The romantic comedy has been declared a huge hit and on this occasion, we caught up with Vijay for an exclusive interview. Let's see what he has to say.
Q)How is the response for your film ?
The response has been just amazing. The entire team was a young bunch and worked very hard for the film. I am getting so many messages from all over and within the industry and this has boosted my confidence big time.
Q)Can you name a few who have congratulated you. ?
My Yevade Subramanyam team are very happy with my film's response and have been messaging me non stop. Directors like Nandini Reddy and many more have wished me for my performance. Also Nani, who has been such a huge inspiration is very happy with my success.
Q)How did they cast you for this film ?
Initially, the film went to a lot of actors before coming to me. After seeing my performance in Yevade Subramanyam, director Tarun was hellbent that I should do the lead role in the film.
Q)What attracted you towards the film ?
I had seen Tharun's short films and always had a good impression about him. Also, the character Prashanth threw quite a few challenges at me as an actor. It was a very complex role and I found it very interesting to play and okayed the film right away.
Q)How did you prepare for the role ?
I gave a lot of inputs and should thank Tharun for accepting them right away. For example, my character is quite laid back and yawns at unusual places. Certain small mannerism like these were my suggestions and worked out well for us.
Q)Your performance in the climax is being talked about all over. What do you have to say ?
We made special plans and shot the climax during the fag end of the film. It was a lengthy scene and Tharun wanted me to wrap it up in a single take. I took a lot of time and finally went for the take. I remember clearly that once the shot was done, everyone were clapping for me.
Q)Looks like you guys faced a lot of trouble to release the film ?
Right from the day one, we took this project to many. We even narrated the script to our Yevade producer Swapna Dutt but things did not work out. Tharun then narrated the film to Suresh Babu who in turn suggested Raj Kandukuri's name and that is how the film took shape.
Q)So how did Suresh Babu's name help the project ?
All the attention and theaters that our film is getting today is all because of Suresh Babu. He is the one responsible for the pre-release buzz and the various special shows that we have been showing to the press off late.
Q)Your director Tharun has become hot property. What do you have to say about him ?
I have never seen such a confident man like Tharun in my entire life. He is so perfect and does everything on his own. Right from the script to the posters and trailers, everything he has edited on his own and his work is there for everyone to see. The way he has narrated the film with clean entertainment and yet contemporary values speaks volumes of his talent.
Q)Everyone is lauding your chemistry with Ritu. How was she during the shoots ?
Even though me and Ritu worked on Yevade Subramanyam, we hardly interacted with each other. She was a very close friend of Tharun and was an obvious choice for the project. I always knew that she would act well but was totally surprised with her performance in the film. The way she enacted her role was superb and only experienced actors could pull off such characters.
Q)Coming back to your career, what kind of roles you want to do ?
I am game for any kind of role and am even ready to do negative characters. My only aim as an actor is that every director should think of me before they cast someone. I should be able to fit in their thoughts and roles should be written keeping me in mind.
Q)Any particular inspiration do you have in Tollywood ?
I admire Nani's work big time. Maybe somewhere down the line, I also want to create a name for myself where everyone should feel that if Vijay has done this film, there will be something interesting to look forward to.
Q)How difficult is it for a non industry guy like you to survive in Tollywood ?
It was quite tough and I have been struggling from quite a long time. Even though I did not like many roles, I did them just for the sake of being around and moving towards my goal. Hopefully, the success of Pelli Choopulu will open new avenues for me.
Q)What are your upcoming projects ?
As of now, I am shooting for Arjun Reddy and have a film called Dwaraka which is half way through. Both these films are quite different and I feel that they will bring me closer to the recognition that I am looking for.
With this, we wrapped up our interview and wished Vijay the best of luck for his future.
Interviewed by Avad
Articles that might interest you:
Ad : Teluguruchi - Learn.. Cook.. Enjoy the Tasty food