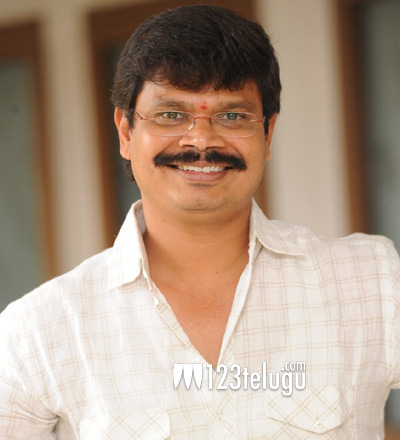 Boyapati Srinu has an enviable reputation as a commercial director. His films have a high dose of action, raw emotions and punch dialogues. But when you meet him in real life, he comes across as a very well mannered and soft spoken gentleman. Boyapati Srinu will be celebrating his birthday tomorrow and he interacted with some members of the press on this occasion. His next picture is with Nandamuri Balakrishna. Boyapati Srinu spoke about his upcoming project and about the trends in the film industry. Here is the transcript of this conversation.
Q. How do you plan to celebrate your birthday?
A. To be very honest, I am very busy with the pre-production of my next film with Nandamuri Balakrishna. So, it will be quite a routine and busy day for me.
Q. Have you finalised the script for Balakrishna's film?
A. Yes.The storyline and characterisation have been finalised. But we will continue to refine and improve the script right until the day of the shoot.
Q. Fans are widely expecting the film to be a political one. Is it true?
A. It will primarily be a film with very good human emotions. Balayya's characterisation will be quite new, in a way that will thrill fans and cinema lovers. I have a great responsibility on my shoulders and I will do my best to come up with a very satisfying film. The movie will not be completely political. There will be one or two references here and there, but politics will not be the dominant emotion.
Q. You were supposed to do a film with Mahesh Babu and Charan? What happened to those projects?
A. A discussion about a project with Mahesh Babu did happen. But nothing was finalised. My next film after Balakrishna's movie will be with Ram Charan.
Q. You take a lot of time between projects. Any specific reason?
A. I spend a lot of time on the script and pre-production. I can start off and shoot films at a fast pace and increase my bank balance. But that is not how it should be. When a producer believes in me and invests so many crores in my film, I must ensure a minimum guarantee success for him. For example, if I need 1,20,000 feet of footage, I will shoot only that much. I will not waste 4 or 5 lakh feet of film. I do most of my editing work on paper itself, so that the producer does not suffer unnecessary expenditure. These exercises take time.
Q. Some directors spend a lot of money over 'stylish look'. What is your opinion?
A. (Smiles) I do not want to talk about others, so I will limit myself to my films. As far as I am concerned, there are two ways of narrating a story to viewers. One way is to convince viewers. The other way is to confuse viewers. These days, some directors are trying to confuse viewers with some gimmicks and editing effects. The viewer will not understand what happened and the directors claim that as stylish presentation. Is that stylish presentation? You tell me.
Q. Are you changing your technical team for Balakrishna's film?
A. The technical team has not been finalised yet. I will mostly retain my team but there are a lot of things that I need to take care of. The technicians I choose should be perfect for the genre and plot of my film.
Q. Is the film going to be titled 'Ruler'?
A. Most likely,yes.
Q. Can we expect Nayanathara in the film again?
A. The chances of that happening are low. I have showcased her very well in 'Simha' and her characterisation is quite good. If I repeat her in this film, people will invariably think of her characterisation in 'Simha'. Since I am already working with Balayya, that comparison will be inevitable. But if possible, I want to avoid that reference for the heroine. We are still sorting out this issue.
Q. What can we expect from Balakrishna in this movie?
A. It will be a powerful film that will make Balakrishna's fans very happy. Balayya will be seen in a slim and trim look, with a new presentation.The film is a prestigious project and so we will take utmost care in every department. It will be a film that will make people proud. Balakrishna is also very serious about the project and he is putting in special efforts for this film.
Q. Atrocities on women are increasing. Is there a responsibility on filmmakers to do something about that?
A. These days, some extremely vulgar films are being made in the industry and they are becoming big hits. For example, a film came out recently where girls in hostels were showcased in a very bad and extremely vulgar angle. Now let me ask you one question. The next time you pass across a ladies hostel, will you or won't you think about that film? What if someone mistakenly believes that all young girls in hostels are like that. The impact of such films will be felt in the long run. I hope that filmmakers realise the impact they create on society with films. We must have some social responsibility.
Q. Can you tell us more about your family background?
A. I come from the village of Peda Kakani in Guntur district. I was born into a middle class agricultural family. Before coming into films, I used to have a photo studio there known as Malini Studio. I also did a journalism course and worked for Eenadu news desk for a very brief period.
Q. The character of a Brother-in-law has prime importance in your films. Any specific reason?
A. (Laughs) Yes. A brother-in-law is usually your biggest well wisher. His sister is a part of your life and therefore, he takes utmost care of you. This is a sentiment which is quite popular for Telugu viewers and I like to incorporate that in my films. I like family emotions and family sentiment. In fact, my family is a joint family. We stay together and I take care of all my nephews and nieces.
Q. Is there any dream project that you would like to attempt in your career?
A. I want to do films in all genres. But I am practical and I will attempt such films only if the commercial aspects make sense. Our market is quite limited when compared to Hindi and Tamil films, so we must keep that in mind. People will also watch such films only when there is novelty value. For example, 'Baahubali' is being made with Prabhas in the lead role. It makes perfect sense since Prabhas has the physique and the look. The director has the market and people will watch the movie. But tomorrow, if someone attempts a similar film just for the sake of it, the project will not have any novelty value.
Q. Are you happy with your career?
A. By God's grace, I have reached a position that my parents can be proud of. But there is still so much that I want to do. I have just started out and I have a lot more to achieve. I have age on my side, so hopefully, I will have a long innings.
With that, we wished Boyapati Srinu a very Happy Birthday in advance. We hope you enjoyed reading this transcript.
Interviewed by Mahesh S Koneru
CLICK HERE FOR TELUGU INTERVIEW
Articles that might interest you:
Ad : Teluguruchi - Learn.. Cook.. Enjoy the Tasty food