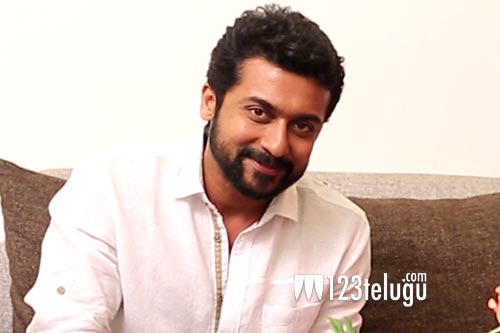 Aakasame Nee Haddu Raa is a film that is being readied for a 12th November release on Amazon Prime Video. On this occasion, we caught up with Suriya for a detailed interview. Here is the transcript?
What made you accept this film?
The story of captain Gopinath was itself so inspiring that I had no thoughts in my mind. But as he had a controversial career, I wanted to know which aspects of his life would Sudha showcase. Once I heard the script, I had no doubts in mind and went ahead with the film.
This is a biopic kind of a project. How did you prepare for it?
Firstly, script reading was something really new for me and I had never done it before. Sudha made me do it and I felt very happy as I got to know the characters also quite well. Also, as the other actors sat with me for script reading, it became easy for us. More than anything, I followed Sudha's vision and pulled the roll-off.
How was it working with Sudha Kongara?
I knew Sudha for a really long time. She was AD on my film Yuva and used to help me a lot with my shoots. At one point in time, Sudha used to even tell me on my face that I did not perform a scene well and even had scope to do better. So, I liked that frank attitude of her and she made this film with a realistic approach and I so happy with the project.
Working experience with Mohan Babu Garu?
I never imagined that he would be even part of this film in the first place. He plays a character that I look up to in the film. So, when his name came up and we approached him, he did not think one bit and said yes to the film. Even on the sets, he was quite curious to know how his shot came out and whether his Tamil diction was right or not. This shows his class and he is a big asset to the film.
Personally, how did this film connect to you?
The story of captain Gopinath goes way deep from the point where he started things from scratch. I met him at his house in Bangalore and came to know so much. Personally, this film took me back to my struggling days where I was on my own and had to earn my own income.
How difficult was it for you to release this film on OTT?
This film was clearly made for the big screen. Lockdown happened and we waited patiently for the situations to get better. Our director Sudha was not at all happy with the small screen release. But seeing the current situation, I, as a producer, took a call and for the sake of everyone involved had to release the film on OTT. But I am happy that there will be a wider audience for this film when it comes out.
How many true facts from captain Gopinath's life will be showcased in this film?
The film is also based on a book that depicts the story of captain Gopinath. Sudha has taken four aspects of this book and showcases the incidents before 2003. How my character takes shape, what struggle he had before making it big has been showcased in a realistic manner.
How do you look at Jyothika's second innings in her career?
Touchwood, it is going great. She is getting the best roles and is also able to choose from them. It happens very rarely for an actress who is in a position to say no to big banners. She is an inspiration to many and I will be supporting her even in the days to come.
Sudha Kongara's take on the film and Surya's performance
Sudha Kongara also attended the interaction and she also spoke at length about Surya and the way he portrayed the role. Sudha says that Surya was the only actor she had in mind and he gave life for the film as an actor and producer. He used to come first on the sets and the manner in which he carried the emotions throughout the film will impress many.
Interviewed by Avad
Articles that might interest you:
Ad : Teluguruchi - Learn.. Cook.. Enjoy the Tasty food