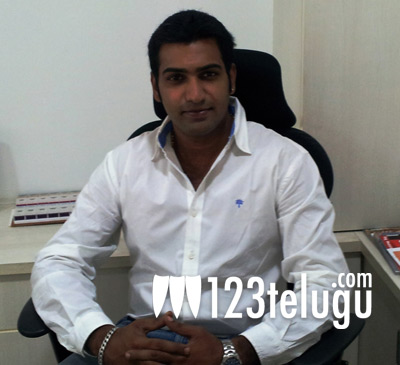 Nandamuri Tarakarathna, who has recently rechristened himself as NTR, is coming up with Nandeeswarudu for this Sankranthi. The actor is supremely confident about the success of this project. We caught up with Tarakarathna at Shabdalaya Studios for an exclusive interview. He bowled us over with his humble and extremely polite nature. He was also quite candid and honest. Here is the transcript of that interview for you folks. Enjoy!
Q) You are sporting a new and powerful look in Nandeeswarudu. What was the inspiration behind it ?
A) Director 'Anji' Sreenu chose that look. The story requires me to sport two radically different looks and we felt that this look would convey the power and emotion required for the role in the second half. Balayya Babai's performance in Simha inspired me as well.
Q) Describe your character in Nandeeswarudu.
A) I will be seen in two very radical characterizations in the film. In the first half, I play a regular college going guy who is quite carefree. I even end up in jail. Some shocking incidents force me to reconsider and redeem my life. I change myself to protect the people around me and become a better human being. Suman and Sitha are my parents in the film. You will enjoy my character in this film.
Q) What are your expectations from the movie?
A) The movie is a 100 % commercial entertainer and I am sure that people will appreciate the film. There is something in the film for everyone. Action, comedy, drama, songs..you name it, we have it. Go without expectations and watch the film with an open mind. My big break will come with this movie.
Q) Despite considerable talent, you have not tasted Box Office glory so far. What do you think is the reason?
A) I had many flaws earlier. I was not mature enough and things did not work out as expected. But I am more confident now. As they say, everyone has a time. My time will come with Nandeeswarudu. I must thank director Ravibabu garu for giving me the belief and confidence that I am good director's artiste.
Q) Speaking of Ravibabu , your performance in Amaravati was excellent. Would you do negative characters in future?
A) I was widely appreciated for my role in Amaravati. People recognized my talent in the movie. I would not really look at my character in Amaravati as negative. It was a character of a person with extreme amounts of love, leading him to behave with negative shades. The script really excited me and if such exciting roles come my way in future, I will definitely do them.
Q) Coming back to Nandiswarudu, how did the project materialize?
A) Director Sreenu was with me for many years. He came up with the story of Nandeeswarudu and gave me a bound script. I was impressed with it and readily agreed. He waited patiently for me as he did not want to make this movie with any other hero
Q) There are some big releases this Sankranthi. Do you think Nandeeswarudu can survive the competition?
A) Absolutely. The movie has come out really well and we will be able to do well even in the face of tough competition.
Q) When will you work with frontline directors like Rajamouli, Vinayak etc?
A) First, I must prove myself as an artiste and as a commercial hero before trying to work with them. Only when they have confidence in me will they be able to consider me for big projects. I will definitely work with top directors like them in future.
Q) Will you do a multi-starrer with the other Nandamuri Heroes?
A) I would love to do such a movie. It would be my dream project. But a lot of things have to fall in place before even trying to attempt such a flick. A good story and subject must be there, dates should be available and the timing should be right. I will do something like this in future for sure, but maybe it will take some time.
Q) You sang a song in this film. How was the experience?
A) I was extremely scared about this and I had my reservations. But when I saw the output, I was happy. I have been appreciated by many people who have listened to the track. It was a highly enjoyable experience.
Q)Outside the Nandamuri family, who are your favourite actors.?
A) After my grandfather NTR and Balakrishna, I would rate Kamal Haasan as my favourite hero. Among actresses, I absolutely love Savithri.
Q) Friends from the industry and favourite activities?
A) I am close to almost everyone in the industry. Tarun, Srikanth, Rajiv Kanakala…there are many of them. Apart from films, I love to play cricket. In fact, I am leaving for Sharjah in a few hours time to play for the CCL matches.
Q) What are your upcoming projects?
A) I will be doing a film with Anji Sreenu again. It will be a radically different film when compared to Nandeeswarudu. I also will be doing a comedy entertainer with K.S.Nageswara Rao garu.
Q) Any message for your fans?
A) I am indebted to my fans for their support over the years. Especially two of my fans, Pavan and Sujan, are my biggest assets. They have been with me through all my ups and downs. I am glad to represent the Nandamuri family at the Box Office this Sankranthi and I am confident about proving myself this time.
With that, we ended the interview as Tarakarathna went back to supervising some post production activities of his upcoming release. Let us wish him and the team of Nandeeswarudu the very best.
Interviewed by: Mahesh K.S.
Articles that might interest you:
Ad : Teluguruchi - Learn.. Cook.. Enjoy the Tasty food