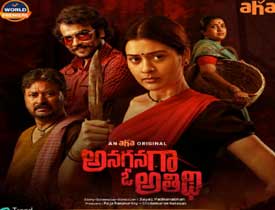 Release date : November 20th,2020
123telugu.com Rating : 2.5/5
Starring : Payal Rajput, Chaitanya Krishna, Veena Sunder, Ananda Chakrapani
Director : Dayal Padmanbhan
Producers : Raja Ramamurthy, Chidambaram Natesan
Editors: Preethi – Babu A Srivastava
DOP : Rakesh B
Music : Arrol Corelli
AHA is one OTT platform that has been bringing some good films in the recent past. Today, a film called Anaganaga O Athdhi has been released. Starring Payal Rajput, let's now see how it is.
Story :
Mallika(Payal Rajput) is a small-town girl who is going through a financial crisis along with her family. This is also the time she comes to know that her fortunes are going to change through an astrologer. As time passes, a person named Sreenivas(Chaitanya Krishna) visits their home and changes things around. Then starts a game of lust, cheat, and cruelness. Who is this Srinivas? Why did he come there? and what changes happen in Mallika's life? That forms the rest of the story.
Plus Points :
The film is based on Payal Rajput and the twists and turns related to her character and the way they are unleashed look quite good in the second half. Payal Rajput makes a U-turn from her glam avatar and does extremely well. Her role needed a lot of various expressions of greed, lust, deceit, and Payal portrayed them supremely well. All her scenes with Chaitanya Krisha are quite good.
Coming to Chaitanya Krishna, he is a very talented actor and gets a good role in this film. Be it his look or the way he portrays his role, Chaitanya was quite impressive. He is a very talented actor and it will be good to see him in varied roles in the days to come.
The supporting cast was also good in their parts. The underlying message about money and how it spoils your life has been showcased well in the film by director Padbanabham.
Minus Points :
The film takes a lot of time to get to its main point. The pace is slow and the makers also fail to establish the real intention of the characters correctly. All this is done to create a suspense angle in the film but it does not work initially. So much build-up is given to each character and that was not needed at all.
The conflict point has not been established well in the film and more scenes could have been showcased to make things intense. The film has a unique theme and is devoid of any commercial angle. All those who expect to see the glamorous side of Payal will be disappointed.
Technical Aspects :
The film is quite high on technical aspects. The film is made on a very low budget but you will not get that feeling at all. The visuals are rich and special mention should go to the cameraman Rakesh for his work. The background score is also pretty good and keeps the proceedings up. Village-based dialogues are good and the production design and set work were good.
Coming to the director Padmanabhan, he has done just an ok job. His vision and story idea is good but his execution was just passable. He takes a lot of time to establish the main conflict and narrates the film in a slow manner. But he nicely ends the film as well.
Verdict :
On the whole, Anaganaga O Athdhi is a suspense thriller that works only in bits and pieces. Payal Rajput's effortless performance, the twists in the second half, and its unique theme are major assets. On the flip side, boring first half, slow narration, and lack of strong conflict take the film down in many areas. All those who love to watch films with a unique setup devoid of commercial aspects can give this film a shot. But don't expect anything special.
123telugu.com Rating : 2.5/5
Reviewed by 123telugu Team
Articles that might interest you:
Ad : Teluguruchi - Learn.. Cook.. Enjoy the Tasty food