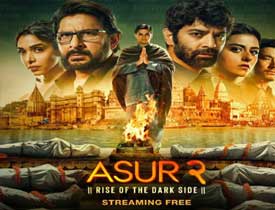 Release Date : June 03, 2023
123telugu.com Rating : 3.25/5
Starring: Arshad Warsi, Barun Sobti, Anupriya Goenka, Ridhi Dogra, Abhishek Chauhan, Meiyang Chang, Amey Wagh, Pawan Chopra, Gaurav Arora, Vesesh Bansal, Adithi KS, Atharva Vishwakarma
Director: Oni Sen
Producers: Sejal Shah, Bhavesh Mandalia, Gaurav Shukla
Music Director: Dharmaraj Bhatt
Cinematography: Ramanuj Datta
Editor: Charu Takkar
Related Links : Trailer
Asur starring Arshad Warsi and Barun Sobti in the lead roles, is one of India's most critically acclaimed shows. This crime thriller's season 1 originally premiered on Voot. Three years after season 1's release, Asur 2 is now available to stream on Jio Cinema. Let's see if the second season lived up to the expectations or not.
Story:
After getting suspended from CBI, DJ, a.k.a. Dhananjay Rajpoot (Arshad Warsi), leads his life in a monastery. Nikhil Nair (Barun Sobti) gets into depression after sacrificing his daughter Riya's life. Hence his wife, Naina Nair (Anupriya Goenka), seeks divorce from him. At this juncture, Shubh Joshi (Abhishek Chauhan) gives a big shock to CBI by killing three people at once, and CBI can't stop it despite Shubh giving them prior intimation as always. DJ starts working on the case again. Within no time, ATF (Anti-Terror Force), headed by Paul (Meiyang Chang), takes over the case from CBI and starts the investigation. Shubh informs ATF that he is planning a big attack. Was ATF able to trace down Shubh? Did they stop that big attack? What happened finally? This forms part of the crux of the story.
Plus Points:
There were enormous expectations around season 2, and without any doubt, the successor truly lived up to all the hype. The narrative is sure to hold one's attention for the most part. The writing is phenomenal, and the suspense was maintained all along this new season. One might initially wonder how Shubh is doing these murders without getting caught, but the logical reasoning provided over the end will clear all the doubts.
The back story of Shubh Joshi's character is majestic, and all the unanswered questions of season 1 are answered here. Asur 2 is more about Artificial Intelligence, and all the sequences related to AI will surely blow away our minds. The best part is the episode in which the big attack takes place. The mysterious/miracle boy's character is another example of good writing, as it raises curiosity. The redundancy factor was taken care of as ATF takes over the case.
Barun Sobti is again at his best as an ethical CBI officer who doesn't want to compromise on principles. He is the mainstay of Asur 2, and his performance is simply incredible. Arshad Warsi grabs the eyeballs whenever he is there in the frame. The actor's character gets a transformation here in the second season, and Arshad Warsi aced it to perfection.
Anupriya Goenka, Ridhi Dogra, Abhishek Chauhan, Meiyang Chang, Amey Wagh, Veshesh Bansal, and Gaurav Arora are brilliant in their respective roles. But it is Atharva Vishwakarma who surprises with his charm and dialogue delivery. As the miracle boy, Atharva Vishwakarma is fantastic. As the show reaches its end, it becomes more and more engrossing.
Minus Points:
There are certain portions that were not presented well. Nusrat character's family angle is one such aspect that needed better execution. Though these scenes are essential to establish Nusrat's characterization, they aren't that great to move the audience emotionally.
Ishani, played by Adithi, did a pretty good job, but all her scenes could be guessed well in advance. It was very obvious what would happen to Ishani's character, and here the show becomes predictable. The makers could have avoided using these tropes. The editing in the initial episodes could have been much better. Scenes involving VFX works are shabby. The ending is a bit unsatisfactory.
Technical Aspects:
Dharmaraj Bhatt's background score is impactful, and his score nicely creates tension in the nail-biting moments. Ramanuj Datta's camera work is solid, and the production values are neat. The editing is just about okay, as the show's length could have been shortened.
Coming to the director, Oni Sen, he did a very good job with the series. The way he blended mythology and sophisticated technology and created this crime thriller is just brilliant. He is ably supported by his writing team. The dialogues are neatly written, and they create a very good impact.
Verdict:
On the whole, Asur 2 is a good successor to its first season and is engrossing for the most part. The neat writing, commendable performances, and good direction are its assets. On the flip side, the show could have been shorter, and the ending was a bit unsatisfactory. If you have enjoyed watching the first season, you will end up liking the second season as well.
123telugu.com Rating: 3.25/5
Reviewed by 123telugu Team
Articles that might interest you:
Ad : Teluguruchi - Learn.. Cook.. Enjoy the Tasty food