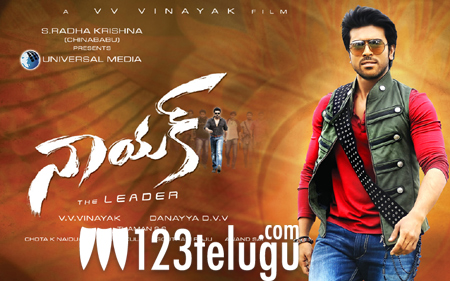 The audio album of Mega Power Star Ram Charan's 'Naayak' has been released yesterday at a grand function held in Ramanaidu Studios, Nankramguda. The film has 6 songs in all and they have all been composed by Thaman. Charan is known for his terrific dances so let us see what Thaman has conjured up for the young hero.
1. Song: Laila o Lailaa
Singers: Shankar Mahadevan, Ranjith, Rahul, Naveen
Lyrics : Chandra Bose

'Laila o Lailaa' is a peppy club song that will most likely be used to introduce Ram Charan in the the movie. The song's racy music provides great scope for Charan to come up with some stunning dances. Led by Shankar Mahadevan, this song has vocals from four male singers and they have rendered the song with good energy levels. Chandra Bose's lyrics are ok. In typical Thaman style, the synthesizer and drum beats drown out all other sounds in this fast paced number. A good dance track.
2.Song: Kathi Lanti Pilla
Singers: Thaman, Shefali Alvaris
Lyrics: Chandra Bose

'Kathi Lanti Pilla' is a duet that has been rendered by Thaman and Shefali Alvaris. Nothing special in the vocals department. Chandra Bose has penned the lyrics for this number. Once again, music has been tuned to provide scope for Charan to showcase his dancing skills. The synthesizer, octapad and percussion instruments are the predominant ones that you will hear. A decent song overall and you can expect some lovely beach visuals for this number.
3.Song: Subhalekha Rasukunna
Singers: Haricharan, Shreya Ghoshal
Lyrics: Veturi

'Subhalekha Rasukunna' is an evergreen classic of Megastar Chiranjeevi, with lyrics penned by the late great Veturi garu. Thaman has now remixed this song for Charan and the results are less than satisfactory. The modern version has vocals from Haricharan and Shreya Ghoshal. Shreya Ghoshal's performance is fine but it is Haricharan who lets the song down. Comparisons are bound to arise with Dr. S.P. Balu and Haricharan's performance is not even close. As for Thaman, he should have toned down the drum beats and synthesizer effects for this remix.
4.Song: Hey Naayak
Singers: Shreya Ghoshal
Lyrics: Chandra Bose

'Hey Naayak' is the title track of the film and it is pretty entertaining. Shreya Ghoshal is in full flow, with a pretty energetic performance that is nice to listen to. Chandra Bose has penned the lyrics for this song and they do the job. Thaman's music is peppy, rustic and appropriate for the theme of the song. Expect a colourful picturization and mass masala steps for this number.
5.Song: Nellorae
Singers: Jaspreet Jasz, Suchitra
Lyrics: Sahiti

'Nellorae' is a mass masala number that will drive fans crazy if choreographed well. With ultra rustic beats and lyrics, the song has everything going for it in terms of entertainment value. Jaspreet and Suchitra have taken care of the vocals and they have done a good job. Suchitra ,in particular, has infused great energy in her vocals. Thaman's foot tapping musical score is perfectly in sync with the theme of this song.
6. Song: Oka Choopuke Padipoya
Singer : Vijay Prakash, Bindhu Mahima
Lyrics : Bhaskara Bhatla

This is a romantic duet that has some pretty predictable music from Thaman. Vijay Prakash and Bindhu Mahima have rendered this song and they do an OK job. Bhaskara Bhatla has penned the lyrics. A predictable and strictly ok track overall.
Verdict :
The audio album of 'Naayak' makes one thing abundantly clear – Ram Charan will be in full flow with his dances. The songs are peppy, have entertainment value and provide ample scope for interesting choreography. Thaman has played it safe with his tried and tested drum beats and synthesizer notes. Nothing new from him in terms of music. 'Hey Naayak', 'Nellorae' and ' Kathi Lanti Pilla' will be my top picks from this album.

Reviewed by Mahesh S Koneru
Articles that might interest you:
Ad : Teluguruchi - Learn.. Cook.. Enjoy the Tasty food