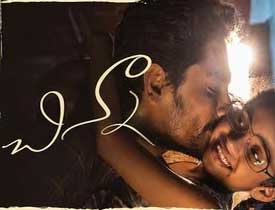 Release Date : October 06, 2023
123telugu.com Rating : 2.75/5
Starring: Siddharth, Nimisha Vijayan, Sahasra Sree, Anjali Nair, and others
Director: SU Arunkumar
Producer: Siddharth
Music Director: Dhibu Ninan Thomas and Vishal Chandrasekhar
Cinematographer: Balaji Subramanyam
Editor: Suresh A Prasad
Related Links : Trailer
Renowned actor Siddharth starred in and produced the Tamil film, Chittha, which has been dubbed in Telugu as Chinna. It hits theaters today. Read our review to discover what it has to offer.
Story:
Eeshwar, also known as Chinna (Siddharth), is a government official overseeing his deceased brother's wife and 8-year-old daughter, Sundari, also known as Chitti (Sahasra Sree). One fateful day, Chitti goes missing, setting Eeshwar on a quest to uncover the truth. What has happened to Chitti, and what bizarre secrets will Eeshwar unearth? The film's central plot unravels the mystery.
Plus Points:
The storyline is convincing, with a notable focus on narration, especially in the second half. The screenplay also demonstrates a well-structured approach in the latter part of the film.
Siddharth delivers one of his career's finest performances. His simple yet emotionally resonant portrayal of the character is commendable, as he adeptly conveys the required emotions.
Sahasra Sree's portrayal of Chitti is both adorable and remarkable. It's a challenging task for child artists to convey specific expressions with such precision. She deserves more opportunities in the industry for her exceptional on-screen presence.
Nimisha Vijayan, despite the limited screen time, delivers a commendable performance whenever she appears on screen.
The film's score stands out as one of its greatest assets. It effectively enhances the story's emotional depth, creating the necessary drama when required.
Additionally, the filmmakers have taken care to ensure that the dubbing and on-screen signage seamlessly integrate into the Telugu version, providing an authentic feel.
Minus Points:
While the storyline is decent, it may not bring entirely fresh elements to the audience. Some plot twists become easily predictable shortly after the film begins. Nevertheless, it's the screenplay that ultimately elevates the film's quality.
Director SU Arunkumar could have introduced a more engaging screenplay, especially in the first half. The initial part of the film takes its time to delve into the central plot, resulting in a slower pace.
Stories of this nature, dealing with hard-hitting themes, necessitate a strong emotional connection. Unfortunately, this emotional bond between Siddharth and the child, Chitti, feels somewhat lacking. More scenes depicting their relationship could have enhanced this aspect of the film.
Nimisha Vijayan's character could have been portrayed with greater depth, and crafting compelling dialogues could have made a significant difference.

Technical Aspects:
SU Arunkumar has made a commendable effort to create Chinna as a thought-provoking film focusing on child abuse and physical assault. However, a more concise and engaging narrative in the first half could have altered the overall outcome.
Behind the scenes, music director Vishal Chandrasekhar deserves recognition for his contribution to the film. His score significantly enhances the viewing experience. However, the editing by Suresh Prasad could have been further refined. Balaji Subramanyam's cinematography is admirable, and the production values meet the expected standards.
Verdict:
On the whole, Chinna offers a partially engaging thriller drama with outstanding emotional performances from Siddharth and Sahasra Sree, along with an impactful score by Vishal Chandrasekhar. However, the film largely suffers due to the slow-paced first half, a few superfluous scenes, and a somewhat predictable storyline. You may watch Chinna this weekend, but keep your expectations in check.
123telugu.com Rating: 2.75/5
Reviewed by 123telugu Team
Articles that might interest you:
Ad : Teluguruchi - Learn.. Cook.. Enjoy the Tasty food