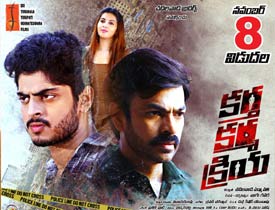 Release date : November 08, 2018
123telugu.com Rating : 2.25/5
Starring : Ravi Varma, Raghu Babu, Kadambari Kiran, Nutan Raj
Director : Nagu Gavari
Producers : Chadavala
Music Director : Sravan Bharadwaj
Continuing the trend of low budget films, yet another movie named Kartha Karma Kriya has released all over today. Let's see how the film turns out to be.
Story:
Siddhu(Vasanth) is a playful youth who works in a mobile store. His only aim is to earn easy money. As time passes by, he falls in love with Mythri(Sehar) who in turn is looking for the murderer of her sister Divya. Knowing this, even Siddhu starts helping Mythri and in the due course of time, Mythri finds out that there are two other girls who have died in the same manner as her sister. Who is this murderer? Has Siddhu anything to do with this case? and will the special cop(Ravi Varma) find out who the murderer is? To know the answers, you need to watch the film on the big screen.
Plus Points:
Hero Vasanth is the highlight of the film and makes a good debut. He looks super fit and also gave a memorable performance in his role. Vasanth's performance in the climax is very good as the young hero generates very good emotions.
Heroine Sehar was decent in her role but she needs to work on her expressions. The actress who did the role of Divya has also done a good job in the few scenes she got. The climax has been executed well and Ravi Varma's performance during his investigation was also neat.
Minus Points:
Even though the plot chosen is contemporary, the director failed to generate a basic interest and has not established the problem and evate it when it was required the most.
The second half gets side track as the problem is not dealt with properly. Until the climax, things keep on getting deviated and because of this, the audience lose interest in the film. The logic goes missing in many investigation scenes and all this happens because of the shoddy screenplay. The pace of the film is also slow and has no episodes which keep the audience interested.
Technical Aspects:
Music by Shravan Bhardwaj was just about okay but his background score was horrible and irritates the audience. Camerawork by Durga Kishore is neat and showcases this low budget film in a decent manner. Editing by Praveen Pudi is bad as many slow motions shots could have been chopped off. Coming to the director Nagu, he has failed to deliver an interesting thriller in spite of having a very good and contemporary subject.
Verdict:
On the whole, Kartha Karma Kriya is an investigative thriller which has nothing going its way. In spite of having a good concept, the director failed to generate interest among the audience by showcasing many disinteresting scenes which kill the film and have nothing new to offer. Avoid it.
123telugu.com Rating : 2.25/5
Reviewed by 123telugu Team
Articles that might interest you:
Ad : Teluguruchi - Learn.. Cook.. Enjoy the Tasty food