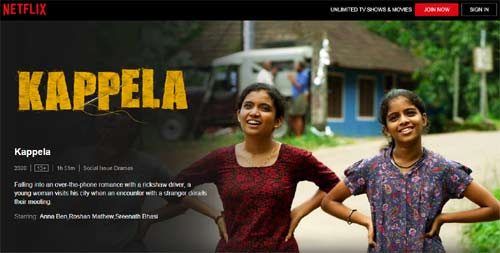 Starring : Anna Ben, Sreenath Bhasi, Roshan Mathew
Directed by : Muhammad Musthafa
Produced by : Vishnu Venu
Cinematography : Jimshi Khalid
Edited by : Noufal Abdullah
So, continuing the series of reviewing movies and shows during the lockdown period, our today's pick is the Malayalam film Kappela. The film is available on Netflix and let's see how it is.
What's it about
Jessy(Anna Ben) is a small-town girl in Kerala. One fine day, she gets a random call from an unknown person(Roshan Mathew) and ignores it. The calls keep coming and slowly Jessy falls in love with this guy whose name is Vishnu. As time passes by, Jessy's alliance is fixed and this leaves her restless. She calls Vishnu and they decide to meet finally. They fix a common meeting place and when she lands there, things change upside down for Jessy with the entry of a character named Roy(Sreenath Bhasi). Who is this Roy? What does he have to do with Jessy? Will Jessy and Vishnu finally meet in the end? That forms the rest of the story.
What's good?
The social message showcased in the film is solid. How young girls fall prey to bad elements in society has been showcased wonderfully. Anna Ben is an actress who has become the most popular in the last year or so and she does a superb job in the film. She as a helpless Jessy does wonderfully and holds the attention of the audience through her expressive eyes.
Roshan Mathew is also solid in his crazy role. He has that charming side to him and also shows what an actor he is with his sudden transformation in his character. Sreenath Bhasi who plays the third crucial role is also very good and brings a lot of impact to the film.
The camerawork is exceptional and so was the BGM. The last half an hour of the film is super gripping with unexpected twists and thrills. You can never expect what is thrown at you during this time. The mature romance between the lead pair looks nice. The film is a mix of romance, social message, and thrill which is rare in today's time.
What's bad?
Malayalam films are devoid of the regular commercial aspects and this is the same with Kappela too. Because of this, the film takes its own time to come to the actual story. Not that it is bad, the narration shows the life of lead characters in detail and this might be a bit slow viewing wise for our Telugu audience.
Final Word
Overall, Kappela is a lovely Malayalam film that has good emotions, subtle romance, and solid thrills in the last half an hour. Apart from the slightly slower pace, the performances, narration, and unique story of the film keeps you hooked till the end making this film a solid watch during this lockdown. Don't miss it.
Rating: 3.5/5
Articles that might interest you:
Ad : Teluguruchi - Learn.. Cook.. Enjoy the Tasty food