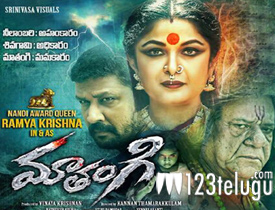 Release date : January 05, 2018
123telugu.com Rating : 1.75/5
Starring : Ramya Krishna, Jayaram, Om Puri
Director : Kannan Thamarakkulam
Producer : Vinay Krishnan
Music Director : Ratheesh Vegha
Cinematographer : Jithu Damodar
Editor : Pawan Kumar
Continuing the flow of low budget films, yet another dubbed Malayalam film titled Matangi has hit the screens today. Let's see how it is.
Story:-
Satyajit(Jayaram) is a rich businessman who keeps getting weird dreams that his family members will be killed one after the other. Upset with this, he visits a baba who in turns reveals that all this is happening because of an evil spirit which is present in a bungalow which Satyajit bought recently. Who is this evil spirit? What does she have to do with Satyajit? and how does Satyajit solves all his problems? That forms the rest of the story.
Plus Points:-
The way director Kannan begins the film with a horror effect looks good and sets the tone of the film quite well. The backstory behind all the problems has been showcased in a decent manner.
The flashback of Jayram which features Ramya Krishna has some decent moments here and there. All the scenes that showcase the evil spirit attacking Jayram's daughter have been executed well.
Minus Points:-
The story of the film is ages old and has nothing new to offer. Also, the way the film has been narrated in a very old manner bores the audience most of the time. The climax is stretched to no extent.
One of the biggest drawbacks of the film is that it is highly predictable as you exactly know what is going to happen in every scene. None of the horror scenes manage to thrill the audience.
Ramya Krishna looks way to old for her young role that she played. There is too much of Malayalam nativity which goes against the film.
Technical Aspects:-
The camerawork is just about okay but the music was pathetic as none of the songs managed to impress. Editing is below par and so was the Telugu dubbing. Coming to the director Kannan, he has selected a very old story and narrated the film in an even boring and outdated way. None of his proceedings manage to create an impact for the audience.
Verdict:-
On the whole, Matangi is an old school horror thriller which has nothing going its way. Everything about this film is so old that you get a feeling that you are watching a decade old horror film which tries hard to scare. Except for the twist behind the actual story, this film has absolutely nothing new offer and can be left alone this weekend.
123telugu.com Rating : 1.75/5
Reviewed by 123telugu Team
Articles that might interest you:
Ad : Teluguruchi - Learn.. Cook.. Enjoy the Tasty food
TAGS:
Mathangi Cinema Review
,
Mathangi Film Review
,
Mathangi Movie Review
,
Mathangi Movie Review in Telugu
,
Mathangi Review
,
Mathangi Review and Rating
,
Mathangi Telugu Cinema Review
,
Mathangi Telugu Movie Review
,
Mathangi Telugu Review
,
Mathangi telugu Review and Rating
,
Ramya Krishnan Mathangi Telugu Movie Review