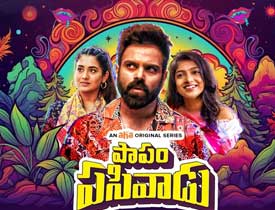 Release Date : September 29, 2023
123telugu.com Rating : 2.25/5
Starring: Sreerama Chandra, Rashi Singh, Sri Vidya Maharshi, Gayatri Chaganti, Madee, Ashok Kumar and others
Director: Lalith Kumar
Producer: Akhilesh Vardhan
Music Director: Jose Jimmy
Cinematographer: Gokul Bharathi
Editor: Viplav Nyshadam
Related Links : Trailer

Aha has just released a new Telugu web series, titled Papam Pasivadu (Season 1), which marks the OTT debut of popular playback singer Sreerama Chandra. Dive into our review to see how the series fares.
Story:
Kranthi (Sreerama Chandra), a confused 32-year-old man, faces a dilemma after breaking up with Dimpy (Gayathri Chaganti). One night, while feeling low and intoxicated, he meets Chaaru (Raashi Singh) at a bar and stays at her place. This sparks his interest. At the same time, his parents arrange his marriage with Anusha (Sri Vidya Maharshi). Kranthi is torn between choosing Chaaru, Anusha, or getting back with Dimpy. The series follows his journey in making this decision and the events that follow.
Plus Points:
Singer Sreerama Chandra is a natural fit for the role of Karthik. His acting is consistent and he effectively portrays the inner turmoil of a confused individual.
Raashi Singh, in the role of Chaaru, shines as one of the central characters. Her performance in her given space is praiseworthy, as is Sri Vidya Maharshi's portrayal of an open-minded lady.
The series benefits from Jose Jimmy's background score, which adds a refreshing layer and occasionally brings moments of laughter. Costume designer Aishwarya Rajeev deserves acclaim for injecting vibrancy into the series with her thoughtfully designed apparel.
Minus Points:
Director Lalith Kumar begins the story effectively in the first episode but struggles to maintain the narrative's momentum, resulting in a gradual decline in pacing by the third episode, attributed mainly to a cumbersome screenplay.
While Karthik's character is well-crafted, the director doesn't create distinct character arcs for the female leads, missing an opportunity to enhance their on-screen presence and improve interactions with the male lead. Notably, no standout scenes exist between Sreeram Chandra and any of the female leads.
Nasa's character, portrayed by Madee Manepalli, has untapped, underdeveloped comedic potential. The remaining cast members have limited roles with minimal impact.
Despite the storyline's simplicity, the series could have been more enjoyable by infusing humour at strategic moments. Regrettably, the final episode lacks vitality and fails to deliver an engaging conclusion.
Technical Aspects:
Lalith Kumar skillfully utilizes the technical elements such as music, cinematography, artwork, and costumes. However, a more polished screenplay was needed to transform Papam Pasivadu into an easygoing and entertaining series. While the production values are decent, the editing has room for improvement.
Verdict:
On the whole, Papam Pasivadu is a coming-of-age web series that fails to make a lasting impression. Although Sreerama Chandra's performance is commendable, the simple storyline and sluggish screenplay hinder the overall viewing experience. While there are occasional moments of laughter, exploring other entertainment options for the weekend may be a better choice.
123telugu.com Rating: 2.25/5
Reviewed by 123telugu Team
Articles that might interest you:
Ad : Teluguruchi - Learn.. Cook.. Enjoy the Tasty food