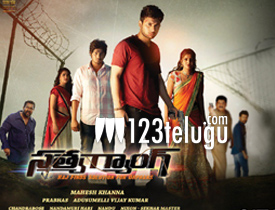 Release date : April 6, 2018
123telugu.com Rating : 2/5
Starring : Sathvik Eshvar, Akshita
Director : Prabhas Nimmala
Producer : Mahesh Khanna
Music Director : Prabhas Nimmala
Cinematographer: A. Vijay Kumar
Editor : Nandamuri Hari
Continuing the trend of low budget films, yet another movie which has hit the screens today is Satya Gang. Let's see how it is.
Story:
Raj(Satvik) and Satya are two orphans who run the Satya Garage. As time passes by, Raj falls in love with Akki whereas Satya loves Sanju. This is also the time when a dreaded gang in the city creates ruckus all over by committing a lot of murders. The twist in the tale arises when these murder cases fall on both Satya and Raj. Who is this gang? Why are they committing these crimes? and how will Raj and Satya come out as innocents? That forms the rest of the story.
Plus Points:
The basic twist in the tale has been narrated quite decently and this is the time the film creates a lot of interest for the audience. Two songs that have been shot in the foreign locations look quite good on screen.
The solution regarding how orphans can find new parents looks quite interesting and has been showcased on a positive note. After a long gap, senior hero Suman gets a good role of an IAS officer. He does a very good job and brings a lot of depth to the proceedings.
Minus Points:
One of the biggest drawbacks of the film is that the main lead looks quite inexperienced. Apart from Suman, Jeeva, and Shafi, rest of the cast does not elevate the proceedings with their acting. Some known actors would have made things better in the film.
Even though the concept prepared by the director is good, he only narrates it during the last 5 minutes of the film. Rest of the proceedings just wander here and there. The film lacks continuity factor as many scenes are cut abruptly.
Too many genres are touched in this film making the proceedings go haywire. What starts as a crime thriller, becomes a love story and then later ends as a social message film which is quite silly.
Technical Aspects:
Music by JB and Prabhas is pretty disappointing. Camerawork by Vijay Kumar is just about okay but the editing work is quite disappointing as the film suffers from continuity factor. Production values of the film are decent and so was the production design. Coming to the director Prabhas, he has done a disappointing job with the film. Just to showcase a small social message, he weaved a story with multiple genres and confused the audience.
Verdict:
On the whole, Satya Gang is a disappointing attempt at making a multi-layered film. The film does not have an interesting point and the lack of continuity and impressive performances disturb the flow of the film. Apart from the basic twist and the last five minutes, this film has nothing much to offer and can be left alone this weekend.
123telugu.com Rating : 2/5
Reviewed by 123telugu Team
Articles that might interest you:
Ad : Teluguruchi - Learn.. Cook.. Enjoy the Tasty food
TAGS:
Sathvik Eshvar Satya Gang Telugu Movie Review
,
Satya Gang Cinema Review
,
Satya Gang Film Review
,
Satya Gang Movie Review
,
Satya Gang Movie Review in Telugu
,
Satya Gang Review
,
Satya Gang Review and Rating
,
Satya Gang Telugu Cinema Review
,
Satya Gang Telugu Movie Review
,
Satya Gang Telugu Movie Review and Rating
,
Satya Gang Telugu Review
,
Satya Gang telugu Review and Rating