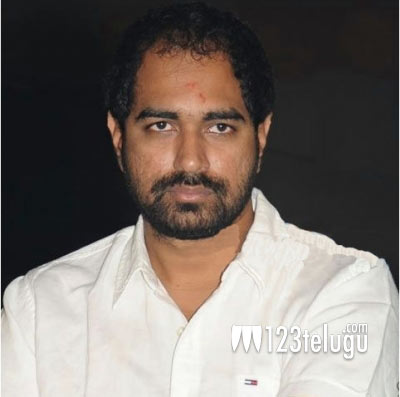 Director Krish has quickly made a name for himself as a sensible director and an engaging storyteller. His films have deep philosophical overtones narrated in an entertaining fashion. 'Krishnam Vande Jagadgurum' is his upcoming movie and Krish is very excited about it. We caught up with him for an exclusive interview and spoke to him at length about his movies, his interests and the choices he has been making. Read on to see why he has an item song in all his films and how he believes Rana is a bundle of talent.
Q. How did 'Krishnam Vande Jagadgurum' happen?
A. The project has been running in my mind for a long time. I wanted to make a documentary on the Surabhi Theater group and about the dying art of theater. And then I was struck by the mining mafia of Bellary. I suddenly realised that we could have two very different stories that could be superimposed as good vs evil. There are so many analogies. You have Mother Earth dying away due to mining in one angle and you have Theater Arts dying away in the modern age. Every film is about good vs evil. So in my film, a theater artist called B. Tech Babu will discover his inner consciousness to fight evil.
Q. How did you arrive at this title?
A. The seed for the title lay in a Seetharama Sastry poem 'Porapatuna Promise chesavayya Krishna'. I later took that poem and rewrote it in my own way, which Seetarama Sastry garu appreciated. I took some lines from that poem for the title. I made a script for Victory Venkatesh which also had the title 'Krishnam Vande Jagadgurum', where the character brings out his inner God. I found the title to be apt for this script, where B.tech Babu the actor preaches Jagadguru Tatvam to B.Tech Babu the person.
Q. Is Rana a good fit for this role?
A. Rana is one of the very few young generation actors who can speak and write impeccable Telugu. His bass voice, towering personality and Telugu diction are a perfect fit for this movie. Rana is also a very interesting person. We used to hang out in coffee shops even before we came to the industry. During one such meeting, I narrated a Sri Sri poem titled 'Aaha'. The next day, he recited that fiery poem in a very convincing and interesting way. After the film releases tomorrow, people will realise what a bundle of talent he is.
Q. Nayanatara is already an established star. Is she a good fit opposite an upcoming actor like Rana?
A.. When I wrote the character of 'Devika' in my script, I envisioned only Nayanatara for the role. She plays a documentary filmmaker and a journalist in the film and that character requires a certain intelligence and maturity. Nayanatara brought those qualities to the role. And with Rana's imposing physique, Nayanatara was never going to be too dominating. We needed a star in the film and Nayanatara fit in perfectly. Perhaps, it is destiny that after playing Sita (Ramavataram), she is now playing Devika in Krishnavataram (Smiles).
Q. You seem to be very fond of Indian mythology….
A. (Ponders for a while) … I am actually fond of stories. If you look at various cultures, there are similarities. I read a book titled 'The Hero with a Thousand Faces' by Joseph Campbell and I really enjoyed it. You take the story of Jesus, people were trying to kill him and a star announces his divinity. You take Krishna, people try to kill him and an 'akasa vani' announces his divinity..The stories are very engaging.

Q. What do you enjoy doing in your free time?
A. (Smiles) I just hang around coffee shops, I read a lot of books and I also play volley ball. I enjoy good food and I keep searching around to find the best stuff. If you ask me where you can find good food or good restaurants, I can tell you.
Q. Which one is the most personally satisfying film out of the three you made so far?
A. All of them are satisfying in their own ways. 'Gamyam' gave me a break in the industry. 'Vedam' is my personal best as it has a lot of subtle human emotions and good scenes. 'KVJ' is a nice action entertainer which will give me my first big commercial hit
Q.Rana was injured a number of times during the action sequences. Were such hardcore action sequences required ?
A. Rana is someone who is very tough. He believes in going to any extent for maximum impact. I am sad about the injuries but the action sequences came out brilliantly and Rana will get a good name for his efforts.
Q. What are your upcoming projects?
A. My next film will be with Mahesh Babu in Ashwini Dutt's production. I have completed the script a long time ago. After KVJ's release and promotional responsibilities are complete, I will sit and refine it. Shooting will most probably start after April 2013.
Q. You will be handling a big star like Mahesh Babu for the first time. Will the project be a 'class film' or a 'mass film' ?
A. (Smiles) I basically am a very mass guy. You look at all my films and you will see an item song. Why? Because I like them. Who doesn't like a heroic sequence for Rajinikanth or a mass introduction for Mahesh Babu? This whole class and mass classification is nonsense. My films will have entertainment and good storytelling.
Q. Any memorable incidents while filming KVJ?
A. Having Victory Venkatesh on sets to dance to a song in my film is a very memorable experience for me. We had a great time and enjoyed seeing Venkatesh and Rana dance together.
Q. What was the best compliment you got for KVJ so far?
A. The best compliment came from Venkatesh garu. He saw the film and told me that Rana's performance stayed with him even after coming out of the theater. He heartily applauded all of us. That I think is the best compliment I got so far.
Q. Are you working towards any dream projects?
A. My motto is Carpe Diem. I live in the present, for today. (Smiles)
Q. Any message for viewers?
A. Do watch KVJ tomorrow and watch out for an incredible talent called Rana. You will see why I had so much faith in him and why he is such a talented actor.
As we were about to wind up the interview, Krish was given a beautifully decorated Capuccino with the message 'All the Best', by Vishal from Beyond Coffee. Krish was very delighted and had a picture taken with the guy. Here it is folks. We also hope you enjoyed reading this interview
Inteviewed by Mahesh S Koneru.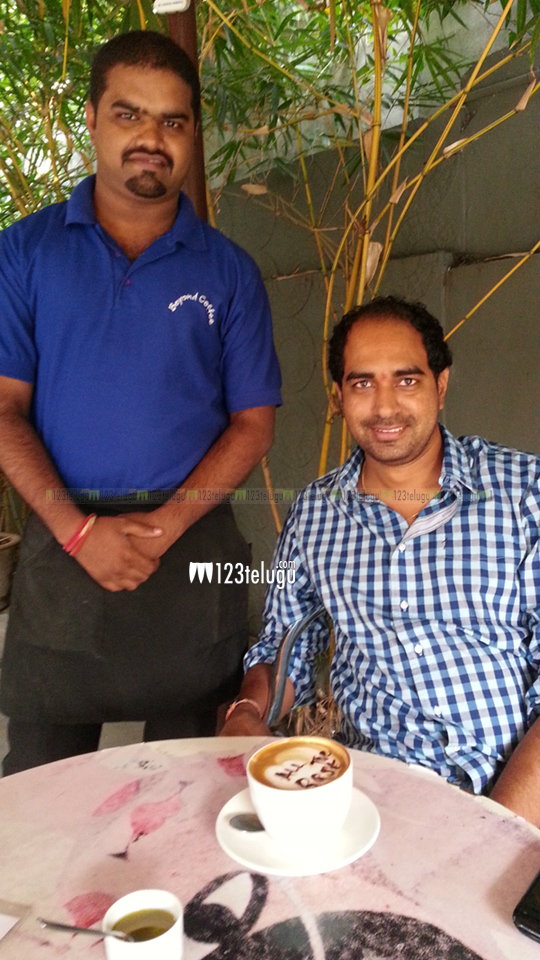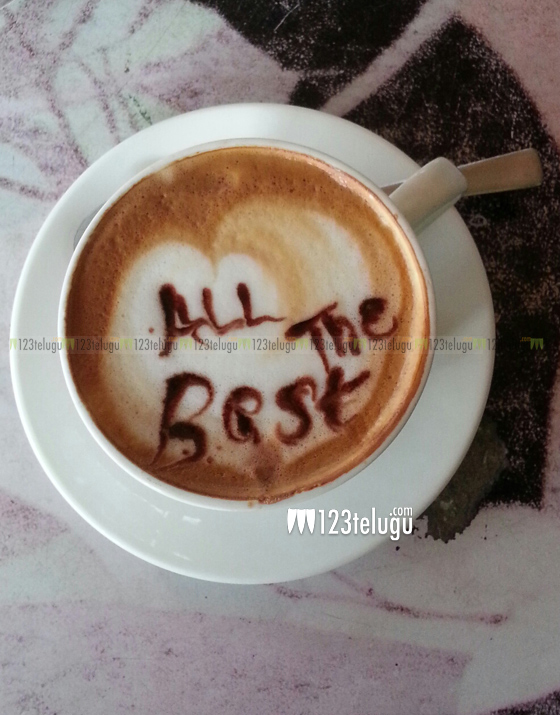 Articles that might interest you:
Ad : Teluguruchi - Learn.. Cook.. Enjoy the Tasty food