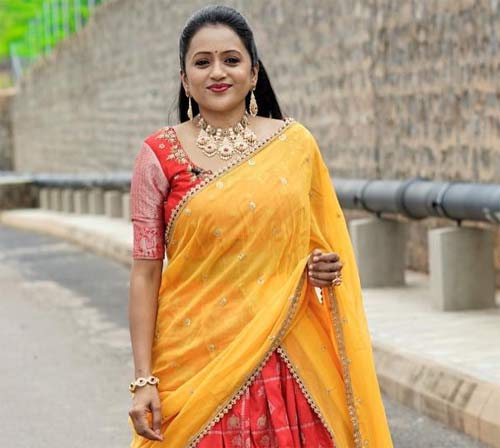 Suma Kanakala has been in the industry for a long time now. She does multiple shows and is also working during the lockdown and is launching many shows one after the other. On this occasion, we spoke to her for an exclusive interview where she speaks about various aspects of her life and career. Here is the transcript.
In spite of Corona scare, you have been working nonstop. Are you not scared?
There is fear but I am well prepared. My day starts with a hot cup of Apple Cider Vinegar with water. I do Yoga and keep myself fit. I also take multi-vitamins in my nutrition and see that I eat more leafy vegetables. Throughout the day, I make sure that my diet is filled with all the rich intake that is needed to increase my immunity. Between each episode's break, I take steam and gargle with hot water. The moment I am home, I take a shower and do not mee anyone.
What has the lockdown taught you?
Times are very challenging and one should give time to themselves. I was always running for my shows and career. But this lockdown made me understand that I should also give time to myself. I relaxed a lot and made sure that I did whatever I couldn't do in a long time.
How did you spend time during the lockdown?
We had a personal loss in the family with Rajeev's sister passing away. Apart from that, I always wanted to learn Kuchipudi and I did that online. Also, I watched TV crazily. I watched the complete seasons of Game of Thrones and Money Heist and made wonderful food and spent quality time with my family.
Tell us about your new OTT show All is Well with Suma on AHA?
The world is filled with so many uncertainties and people are very scared. Our show brings some good news that is happening all over the world. Also, there are many heroes who did not care for their life and worked hard during this pandemic. We speak to them and know their experiences. Also, there will be an interaction with a star as to what he did during the lockdown and how Coronavirus scare has changed him.
What did you make out of the new digital platform AHA?
After working with AHA on my show, I have huge expectations for this new original Telugu OTT platform. Things are going to change in a big way through AHA. In just a lesser time, it has so many subscribers and they are producing some really good content. AHA will be huge in the days to come.
You mostly meet celebs directly. How is this whole virtual interview experience?
Technology has changed things a lot. One thing it has done especially with celebs like us is that our work did not stop. I am doing virtual interviews, shows, and shoots online. Though I am not physically present with the stars, I am interacting through technology and I feel that is the way to go in the future and I am nicely adjusting to this new culture.
Tell us about your new show Star Mahila?
After doing so many seasons, we are back yet again. This show is personally connected to me as I get to meet women from all walks fo life. The show will go on air from August 17th and this is the show where I enjoy the most as I connect with all the women on a personal level and speak about their lives.
Your association with Mallemaala Enetrtainments?
Touchwood, it has been super smooth. The TV industry was being operated in one way and the moment Mallemaala and Shyam Prasad Reddy Garu entered the scene, he created a new trend. Thanks to him, the TV industry is booming as he has taken the small screen showbiz to the next level with his shows and has given lives to me.
Tell us about Rajeev Kanakala's new transformation in playing mature roles?
He is a terrific actor who has talent in abundance. With the advent of OTT's, he is getting some of the best roles and he will surely show what he is actually capable of in the days to come. I am so happy and confident about his talent as an actor.
Will your son Roshan enter the film industry?
He has already done a film previously. He will surely enter the film industry and has made up his mind. There are two more years to go for that and I do not know in which field he wants to enter the showbiz. I am also open if he chooses TV as well and will support him completely.
You are on Youtube as well. How is that experience?
Youtube is a whole different ball game together. In our TV shows, things are scripted but it is not the case with Youtube. We need to keep coming up with new stuff to attract the views. Coming to my channel, it is more of personal as to what I do and how I enjoy my time.
Finally, even after all these years, what keeps you going?
I always love to be in action and am not the one who holds back. I love getting ready for my shows, facing the camera, meeting new celebs, and be active. I do not like laid back attitude and I feel having a positive attitude keeps me going. I have my lows and health issues now and then but the urge of being in action has kept me going all these years.
With that, we ended our interview with Suma Garu and wished her the best of luck for her new show.
Interviewed by Avad
Articles that might interest you:
Ad : Teluguruchi - Learn.. Cook.. Enjoy the Tasty food