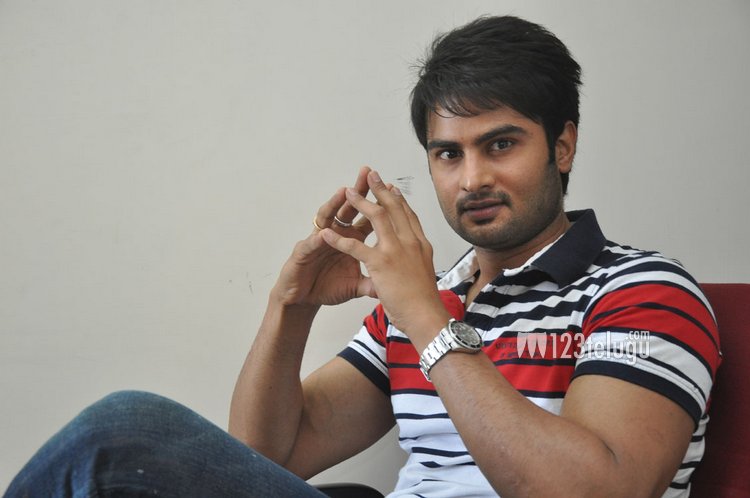 Sudheer Babu comes from a family of superstars. His father-in-law happens to be Superstar Krishna and his brother-in-law is Superstar Mahesh Babu. The young actor made a good impression with his debut film, 'SMS'. He is now all set to hit the screens with his latest offering – Prema Katha Chitram. The movie has been produced and written by Maruthi. We caught up with Sudheer Babu for an exclusive interview today and this is the transcript of that conversation. Read and enjoy folks.
Q. How are you feeling about the impending release of PKC?
A. I am feeling like a kid who is waiting to write his Intermediate exam. But I am not nervous as the college principal himself is sitting next to me, to help me with the exam. That principal is Maruthi. So I am feeling confident.
Q. This is your second film. What progress do you think you have made as an actor?
A. My first film showed that I can dance and fight. This movie will prove that I can act as well. In PKC, I appear as a boy next door and this role requires a subtle performance. There is no unnecessary heroism. "Oka katha ki kavalsinattu ga natinche hero anipinchukuntanu".
Q. Would you call PKC a romantic comedy ?
A. Yes, you can call it a romantic comedy. But there are ample commercial elements where required.
Q. Maruthi is known for his adult comedies. Will PKC have similar writing?
A. No, this is a different film. The subjects Maruthi chose for his earlier projects required that kind of writing. But PKC is a completely different movie. This is a soulful film. There is no scope for going into that kind of adult writing. There will be a lot of comedy in this film. Comedy is Maruthi's strength. For about 2 hours, viewers will continue to laugh and be entertained.
Q. What is the USP of the film?
A. There are 4 characters in this film and viewers will be entertained through these 4 characters only. The treatment of this love story is very unique. The way in which love blossoms between the hero and the heroine in this movie is quite unique.
Q. Prabhakar Reddy is making his debut as a director. Are you happy with his work?
A. He has done a good job. Some cinematographers have turned directors in the past and have delivered successfully. Prabhakar Reddy will also make that transition successfully, with a good quality output.
Q. What kind of an influence did Maruthi have on the proceedings ?
A. Maruthi garu was there throughout the film's shoot and he completely influenced the film. Even though Prabhakar Reddy garu is the director, Maruthi was there for each and every shot. He supervised dubbing, editing and all other technical aspects of the movie. Maruthi and Prabhakar Reddy used to discuss internally, before instructing actors and technicians.
Q. What kind of an actress is Nandhitha?
A. Nanditha is the kind of actress who has all the required 'heroine' qualities on screen, but none of them off screen. She is a very simple and down to earth person. She is a good asset for the film. She is lucky to get such a good role in her second movie.
Q. Did Krishna garu or Mahesh Babu watch the movie ?
A. Not yet.
Q. Where do you want to see yourself, 5 years down the line?
A. I did not set myself any such targets. To be frank, I never even thought about it. I am very interested in films and I try to approach each and every film with sincerity and honesty. Let us see where this approach takes me, 5 years down the line.
Q. Does Mahesh Babu influence you in your career choices ?
A. I follow Mahesh Babu's strategy blindly. During the early stages of his career, Mahesh Babu went looking for specific story-lines and roles. But true success came to him after he stopped doing that. He now listens to the scripts that come to him and then picks the best of the lot. I am doing something similar. "Edho special role kosam wait chesekante, naku ochina scripts lo manchi script teesukuni, 100% effort pettatam correct".
Q. With your family background, people may try to compare you with Mahesh Babu. How do you deal with that?
A. It is not fair and if someone is doing it, they are wrong. Mahesh is a Superstar, with a tremendous following and range. I am just a beginner. If people want to compare me with someone, they must compare me with another new hero or someone who is one film old. But Mahesh Babu's fans are a big asset for me. If not for Mahesh Babu and his fans, SMS would not have done even 50% of what it did.
Q. What do you look for in a script ?
A. I am open to any and every concept. If a subject sounds fresh and I think I am compatible for it, I go for it.
Q. Are you open to remakes?
A. Yeah. But doing remakes is a challenge. Viewers already come in with certain expectations and you have to meet them.
Q. What would you like to tell viewers ?
A. Come to theaters expecting a fresh and novel story. "Heroism, dances, fights expect chesi ravoddhu". They are there, but a nice story and subtle performances will be the major USP's of this movie.
Q. What are your future projects ?
A. One day, I will make a film on badminton star Gopichand. I have been interacting with him for so long and I want to tell his story. Apart from that, I have signed up for 'Mayadaari Malligaadu' and 'Aadu Magadu Ra Bujji'. The latter project is being directed by S.S.Rajamouli's co-director Ramakrishna.
With that, we wrapped up our conversation with Sudheer Babu. Let us wish this young actor the very best for his upcoming release.
Interviewed by Mahesh S Koneru

Click here for Telugu Interview
Articles that might interest you:
Ad : Teluguruchi - Learn.. Cook.. Enjoy the Tasty food