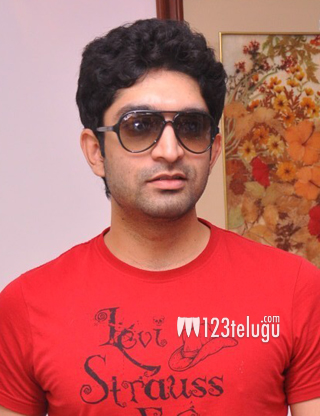 Actor Havish made a good impression with his first film 'Nuvvila'. He followed it up with Omkar's 'Genius'. The movie did not do too well at the Box Office. Havish is now getting ready for his third film and this is being readied on an ambitious scale. He is going to celebrate his birthday tomorrow (25th June), so we caught up with Havish for an interview. He spoke about this plans for the future, about his decision to go with Omkar etc. Read on for the full transcript of the conversation.
Q. As an actor, which film was more challenging? 'Nuvvila' or 'Genius' ?
A. I learnt more as an actor with my first film. I faced the camera for the first time with 'Nuvvila' and I learnt my basics there. 'Genius' was a commercial film. Everything was bigger and grander. I learnt the basics of commercial cinema with that film.
Q Why did you attempt such a mass commercial film with your second project?
A. I did not plan anything. That story came to me and I liked it. So I just accepted that project. The film did very well in single screens and mass centers. The film got terrible reviews and it did not run in multiplexes, but I was accepted in B and C centers.
Q. People tend to have a negative impression about Omkar. Why did you take the risk of working with him?
A. True. People have a negative impression about Omkar. We could feel that impact in A centers. But people in B and C centers seem to be happy with him and 'Genius' did well there. So was it a good decision or a bad decision? I don't know. In a way, I am happy because the film worked in mass areas. When Omkar narrated the story to me, he came across as an adamant but sensible person.
Q. How do you select a script?
A. If the story sounds sensible and I feel convinced, I do it. I also look for quality. I work with people who are passionate about filmmaking and who wish to make a film with good quality technical standards. Chinni Krishna garu taught me the basics of story-writing and I apply the concepts while judging a script. In the end, it sometimes boils down to luck also. Bad scripts might become big hits because of good technicians.
Q. Have you signed any new film?
A. I have signed up for a new film in Oscar Films production. Vishwa Sundar, brother of Oscar Ravichandran, will be producing this movie. A director who worked as Shankar's associate will be directing this movie. This film will be shot in Telugu, Tamil and Kannada. It will also be dubbed in Malayalam. This story is a romantic entertainer based in Goa and there will be good family sentiment in the film.
Q. This seems to be a very ambitious project. Can you speak Tamil and Kannada?
A. No, I can't . I also made that very clear to the producer. But they are confident about pulling it off, so you can't blame me if I don't do a good job in those languages (Laughs). But I have seen how non Telugu speaking people manage to act in Telugu films. So I think I can do it.
Q. What efforts are you putting in to improve as an actor ?
A. I take up each film as a new assignment and I do my homework for that role. That is about it. After I complete my project, I leave films aside to take care of my businesses. When I begin work on a film, I do not interfere in businesses. I leave that work to professionals. I don't think I can balance both at the same time. So I take up one at a time.
Q. Who is your favourite actor/actors ?
A. In Telugu, I like Venkatesh garu for his versatility and willingness to experiment. I like Kamal Haasan for the same reason. These two people are my favourite actors. But I enjoy the work of all our top stars in Telugu.
Q. What about actresses?
A. (Thinks for a while) I like Tamanna's work. She is a good actress and looks very good. I also like Anjali
Q. What special plans have you made for your birthday?
A. I don't usually celebrate my birthday in a grand manner. But I have come into the film industry and I am expected to do certain things now. Chinni Krishna garu has organized a birthday party for me and I will go there.
Q. How do you spend your free time ?
A. I like to sit with one or two close friends and have nice conversations. I hate pubs and discos. I just can't take that commotion and the crowds.
With that, we wrapped up our conversation with Havish and wished him the very best for his upcoming films.
Interviewed by Mahesh S Koneru
CLICK HERE FOR TELUGU INTERVIEW
Articles that might interest you:
Ad : Teluguruchi - Learn.. Cook.. Enjoy the Tasty food