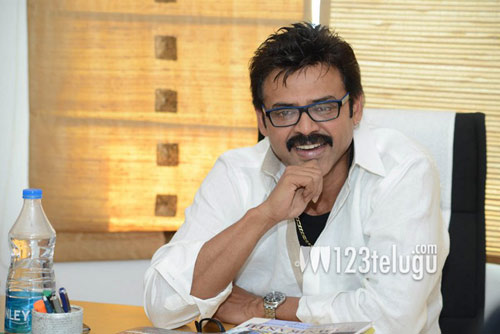 Victory Venkatesh is all set to hit the screens this summer with the film 'Shadow'. Venkatesh is sporting a new look in this movie and he is excited about this project. He interacted with a few members of the press today and spoke very candidly about the film. Venkatesh was in a great mood and he regaled everyone with some funny lines. Read on to see what he had to say about the film, about Meher Ramesh and Shadow's budget.
Q. Happy Holi sir. Did you celebrate the festival?
A. (Smiles) Roju holi ne kadha manaki. Roju rangulu mokhaniki poosukune vallam manam, manaki vere festival endukandi. (As actors, every single day is Holi for us)
Q. Will you be seen as a Don in 'Shadow' ?
A. No. I will not be playing the role of a Don. I think it was a miscommunication. There is no mafia backdrop to the story. It is a revenge drama. 'Shadow' will be a very stylish action entertainer. There will be a good mix of action, sentiment and comedy in this movie.
Q. Shadow is the most expensive solo project in your career? Are you concerned about the budget?
A. (Ponders) Well, it is true that Shadow is the most expensive film in my career but I am not too concerned. The budget has gone up by a bit, yes. But it should be fine. What is done is done, there is no point in thinking about it now. It is out of our hands. It has also been a while since I had a summer release, so let us see.
Q. You have tried out a very new look in the film…
A. Yes. I really liked the look. It has brought good buzz for the film and people are talking about it. It is different from the usual soft style I am seen in. But that mass look will not be there throughout the film. My regular soft look will also be there.
Q. What factor/factors persuaded you to take up 'Shadow' ?
A. I liked Meher's stylish presentation and his dedication. He is very keen about his films and he works hard. It has been a while since I attempted an out and out mass film.
Q. Meher scored a major flop with his last film. Did that concern you?
A. Flops and disasters are a part and parcel of the industry. Andhariki vasthu pothu untaayi.. What is required is sincerity and hard work. I also do not think too much about the past and the future when I make my decisions. I take my decisions based on what I feel at that point of time. Every person may have his/her own way of taking decisions, but this is how I operate. (smiles)
Q. An Ugadi release is being targeted. Will the film have all the tastes of the Ugadi pachchadi?
A. (Smiles). Ugadhi pachchadi lo unde anni ruchulu ee cinema lo untaayi. Ayithe, avi bagunnayo ledho choosaka meere cheppali (The film will have all the different tastes you find in our Ugadi Pachchadi. But whether they are tasty or not is something you have to decide after watching the film).
Q. What is your opinion about the film's music?
A. Thaman has given some really good music for the film. There is a lot of variation in his work. I really liked the title track and the 'Naughty Girl' song. The 'Shadow' title track has been shot very well and you will realise it once you see it on the big screen. In fact, that is the favourite track of my son Arjun as well.
Q. You have kickstarted the multi-starrer trend. You are now working with hero Ram again. Can we expect this trend to continue from you?
A. Absolutely. I have always indicated that I am open to multi-starrers if the script is right. This 'Bol Bachchan' remake we are doing is going to be a super product. There is loads of comedy in it. My character is very nice. Ram has a very good character in it. Jayaprakash Reddy will have a great one as well. I am excited about working with Vijayabhaskar again after so many days. This film will be a laugh riot.
Q. Your films generally have good comedy. Can we expect this in 'Shadow' as well?
A. Yes. The film has some really nice comedy scenes. M.S. Narayana in particular has a very entertaining characterisation. He will make you laugh big time. Nagababu's character is also pretty good.
Q. You have teamed up with Srikanth again. He seems to be a lucky charm for you…
A. Yes. Our combination has always worked well at the Box Office. He will be seen as a police officer in this movie and his role is very crucial.
Q. Is the title 'Shadow' apt for the film?
A. Yes.The hero operates from the shadows to take his revenge. Basic ga, sudden ga ila adigithe naaku aa dialogues etc gurthu undavu andi..(smiles)… Some heroes can just tell you those things so effortlessly. But I can't. All I can say is, it will be a nice mass film. I have put in a lot of hard work for the film and I have tried out some risky action sequences as well, to the best of my abilities.
Q. Tapsee is looking pretty hot in the movie….
A. (Laughs) Emo andi, hot oo kaadho meere cheppali. For me, she is a co-star and she has given a good performance. I think this film will be a nice boost for her.
Q. Have you okayed any other projects?
A. I am listening to a lot of scripts. I have not okayed anything yet. I will take a call in the next couple of weeks.
With that, we ended our conversation. Venkatesh asked the scribes about electricity and water problems and he also went on to speak about spirituality and the need for self actualization. It was a humorous and enlightening conversation at the same time. Let us wish Venkatesh the very best for his upcoming film 'Shadow'.
Interviewed by Mahesh S Koneru
Click Here For Telugu Interview
Articles that might interest you:
Ad : Teluguruchi - Learn.. Cook.. Enjoy the Tasty food