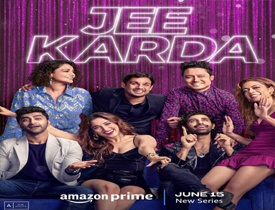 Release Date : June 15, 2023
123telugu.com Rating : 2.75/5
Starring: Tamannaah Bhatia, Suhail Nayyar, Aashim Gulati, Anya Singh, Hussain Dalal, Samvedna Suwalka, Sayan Benarjee, Malhar Thakar
Director: Arunima Sharma
Producers: Dinesh Vijan
Music Directors: Sachin Jigar
Cinematography: Mahendra Shetty
Editor: Neha Mehra, Dipika Kalra
Related Links : Trailer
Prime Video has dropped a new web series named Jee Karda. This is a romantic drama and features star actress Tamannaah Bhatia as one of the leads. Let's see how it is.
Story:
The show is about seven friends Lavanya Singh (Tamannaah Bhatia), Rishab (Suhail Nayyar), Arjun (Aashim Gulati), Preet (Anya Singh), Shahid (Hussain Dalal), Sheetal (Samvedna Suwalka), and Melroy (Sayan Banerjee). These seven are close buddies since their childhood. One day they go to an astrologer to find out about their future. The astrologer warns each of them about a possible threat. A series of events take place that will eventually make the astrologer's prediction come true. To know what all has happened in their lives, one needs to watch the show.
Plus Points:
Through some of the characters, the makers of Jee Karda showcased a few simple life problems, which makes the show a relatable one. The series portrays a woman who finds it tough to lead a peaceful sex life as she lives along with her husband and in-laws in a small apartment. It depicts a woman who doubts if marriage can be an obstacle to leading a happy life after having been in a live-in relationship for a few years. The show also talks about class divisions. These aren't out-of-the-box concepts, but the way things are handled regarding these characters is pretty good.
There are scenes that will reminisce the childhood memories spent with our friends. Hussain Dalal, who played Shahid, is someone one can relate to at some point in life. Though it is a web show, Sachin Jigar has composed some wonderful songs which will have a lasting impact.
Every artist did a commendable job. Tamannaah gave a superb performance. She went all out and acted in bold scenes, too, like never before. Suhail Nayyar, Aashim Gulati, Anya Singh, Hussain Dalal, Samvedna Suwalka, Sayan Benarjee, and Malhar Thakar are impressive in their respective roles.
Minus Points:
The show is not aimed at everyone, as some stories deal with sensitive aspects. Jee Karda targets a niche audience, and hence others may find it boring too. Melroy character doesn't bring anything new to the table, and some sections of the audience might not be able to watch the scenes relating to this character.
A few characters should have been fleshed out in a better manner. Preet character, played by Anya Singh, is good initially, but as the show progresses forward, it starts getting weak. Also, the manner in which the show starts is a bit confusing as the screenplay keeps oscillating between the past and the present. It will take us some time to understand who is playing which character.
The way the show ends is pretty disappointing. It gives us a feeling that it concluded all of a sudden without a proper finale. For someone who waits till the very end to know what shall happen in the lives of seven friends, the ending will disappoint big time.
Technical Aspects:
Sachin Jigar's music is fantastic, and the songs will reverberate in the audience's minds for a while. Mahendra Shetty's cinematography is neat, and the posh locations are captured elegantly. The editing is good, and the show doesn't slow down any time. The production values are good.
Coming to the director, Arunima Sharma, she did a passable job with Jee Karda. While some stories are relatable and engaging, others could have been better. The director was clear in her approach, and she showcased things how she wanted to without any apprehensions. The show was made for a niche segment of the audience, and it will appeal to them.
Verdict:
On the whole, Jee Karda has some relatable moments, and it appeals to a niche audience. Tamannaah and others did well. While a few parts of the series are engaging, a few aren't. The show needed a better ending too. If you love watching youthful dramas, Jee Karda ends up being an okay watch.
123telugu.com Rating: 2.75/5
Reviewed by 123telugu Team
Articles that might interest you:
Ad : Teluguruchi - Learn.. Cook.. Enjoy the Tasty food
TAGS:
Aashim Gulati
,
Anya Singh
,
Jee Karda Hindi web series Rating
,
Jee Karda Hindi web series Review
,
Jee Karda Hindi web series Review and Rating
,
Jee Karda Rating
,
Jee Karda Review
,
Jee Karda Review and Rating
,
Jee Karda web series Rating
,
Jee Karda web series Review
,
Jee Karda web series Review and Rating
,
Suhail Nayyar
,
Tamannaah Bhatia
,
Tamannaah's Jee Karda Hindi web series Review