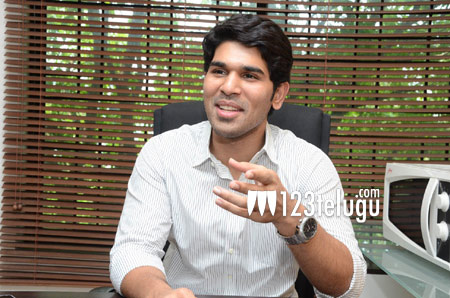 Allu Sirish was beaming with confidence when we met him for an exclusive interview regarding his upcoming film Srirastu Subhamastu. The young actor spoke his mind and revealed many facets about his film, personal life and mega family. Here is the transcript of our interview.
You look very relaxed. Has the release tension not hit you yet ?
I am very chilled out person who does not take much tension in life. Coming to my release, I am very confident about the final product and feel that Srirastu has turned out quite well. I am very anxious and excited to know the audience reaction about our film.
Right from the first look to the trailers, everything seem to work for this film. What is the reason ?
For my last two films, I never felt the need to promote them extensively because of their subject nature. For this film, I was involved right from the title to the first look and trailers. I wanted the best in the business to work on this project. I completely believed in the script and hope that everyone will like it.
How apt is the title to the story of your film ?
The title has a positive feel and when we came to know that it was Chiranjeevi garu's old movie's name, we locked it right away. Also, as our film has a sweet ending and full of bonding and beautiful emotions, the title is a perfect fit.
Are you promoting this film only because it is a crucial film in your career ?
Nothing like that. Whenever you are confident about the end product, one should go ahead and promote the film completely. After watching a rough cut, I felt that a film like this needed to be promoted extensively. Also, I have worked alongside Aamir Khan for Ghajini for about a year and learnt many things as to how to promote a film and take it closer to the audience.
Don't you think you have created an over hype for the film ?
See, right from the first day, we were true to our audience and never said anything out of the world. There are only three songs, no villain and we kept the film's nativity quite simple making things obvious for the audience. This is what I have learnt from Aamir during the making of Ghajini. It is our responsibility to push the film and the audience will only see what we showcase and promote.
You look quite better from your previous films. What kind of personal care went behind all this ?
I feel that I have cracked the way I need to look in front of the camera. I went to Mumbai and got myself a makeover and changed certain small things like my hair style, stubble and the way I dress in the film. All these have helped me look better in the film.
Your film has some senior actors. How comfortable were you shooting with them ?
As I was born in the industry, I knew a lot of them personally. For example, I knew Ali garu from a long time and this helped me break the ice on the sets. Also, we did a lot of improvisation during the making and this helped me a lot in my performance.
How critical is your family about your performances and career ?
As you all know, Chiranjeevi garu liked the film and gave many suggestions personally. But coming to my father and brothers, they have been quite critical and tell me what ever it is on my face. Their feedback and suggestions matter a lot to me.
What kind of advice has Allu Arjun given you in your career ?
Bunny is like my father. He never imposes his views on me and says that I should do things only when I am comfortable doing them. For example, after Kotta Janta, he advised me to do characters which are quite close to me in real life. He feels that I am a very outgoing person and should do lively characters which will bring me closer to the audience.
Everyone in mega family has settled down comfortably. Does this pressurize you ?
No not all ! I do not want that mega factor to play on my mind. Everything is depending on us. When you want to showcase yourself as a mega hero, then the expectations become obvious. Personally, I want to do films where the audience or fans should see me as the character I am playing and not the mega hero.
How do you handle the latest trolling which is going on these days ?
Five years ago, I used to be very sensitive and reacted back strongly. But situations have changed now and everybody from Shahrukh Khan to the pope, are being trolled big time. All this comes within a package and as long you are popular, you need to take everything with a pinch of salt.
How was it working with Lavanya ?
I hardly knew Lavanya and met her only during this film. She is a very talented actress and we had a tough time during the beginning of the shoot. As we got a hang of our characters, it was quite simple and we got along quite well. I personally feel that she has not got her due yet and there is a lot of hidden talent which film makers should explore.
Will you be producing films in your banner ?
As of now, I am content with my acting career and will only think about production after five to six years. As I have grown in a family where my father has an experience of 40 years, I know what hardships he has gone through. Now a days, film making is a difficult business and I wish to stay away from it for now.
Finally, when are you getting married ?
Laughs ! I have a strong four more years to go. I have just stared out and want to prove myself as an actor first. The audience should be happy to see me on screen and for this, I need to work hard and choose scripts which will only enhance my career.
With this, we wrapped up our interview with Sirish and wished him the best of luck for this film. Watch out this space for the complete movie review of Srirastu Subhamastu.
Interviewed by Avad
Articles that might interest you:
Ad : Teluguruchi - Learn.. Cook.. Enjoy the Tasty food