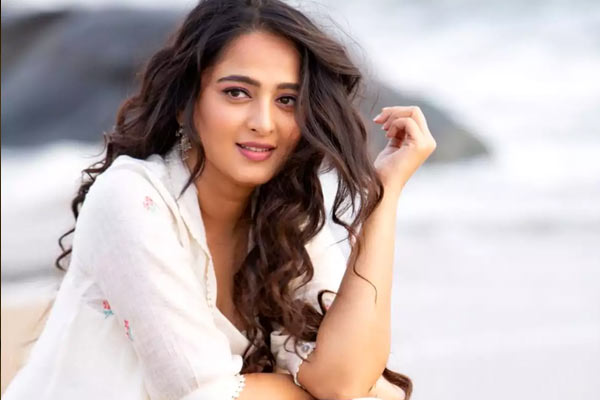 Rom-com entertainer Miss Shetty Mr. Polishetty, starring star heroine Anushka Shetty and young actor Naveen Polishetty, is scheduled for a grand release this Thursday. Vamsi and Pramod of UV Creations produced this rom-com, and it is directed by Mahesh Babu P. Ahead of the release, we got the opportunity to interact with Anushka Shetty, and here is the transcript.
How did Miss Shetty Mr. Polishetty begin? Are you feeling excited or nervous about the release?
I traveled with its story for about two years. I heard the story in 2019, and the film is very close to my heart. I am extremely nervous about the release because, at the end of the day, it is the audience who has to give their opinion. I feel nervous on the first day of the shoot and during a film's release.
Going by the trailer, you seem to have played a progressive woman. Could you tell us more about your role?
You might get that feel by the trailer. But if you watch the film, it is not just about being progressive. She is a master chef in London who is extremely career-oriented. But when it comes down to other things, she is a very normal person who has her own layers of emotions. The story is about Siddu Polishetty and Anvitha Ravelishetty. Who are these people? Why did they come together? What is their travel? I feel most of the people can relate to Anvitha.
Naveen Polishetty is known for excellent comedy timing. How was it working with him?
He is a natural performer. Not just comedy, Naveen is good at portraying a wide range of emotions. You will see the other side of Naveen through Miss Shetty Mr. Polishetty. During the shoot, I always used to tell Naveen about this. He is a highly talented artist, and I am elated to share screen space with him.
How was it working with director Mahesh Babu P?
The script started from him. I got to know about this story through a common friend. He is known to Mahesh Garu and UV Creations, too. I listened to the script, and I instantly liked it. This is a very simple story, and Mahesh Garu presented it in a beautiful manner with a neat balance of humor and emotions.
How did you feel seeing the tweet of Chiranjeevi Garu about the film?
It is extremely heart-warming, and we spoke to him. Chiranjeevi Garu started talking about each and every scene in the film, which speaks volumes of his greatness. He said that such movies need to come very often. Someone like Chiranjeevi Garu taking his time out and talking about our film is such a great feeling. I hope the audience will also like the movie.
After Mirchi and Bhagamathie, you have again collaborated with UV Creations for this movie. How was it working with them?

I am so happy. I have lots of respect for the kind of effort they put into what they do. With everyone they work with, they will shower positivity and love. They always try to do something different. They, too, liked the script immensely. It is the producer who needs to take things to the masses. It's truly amazing to have worked under a banner like UV Creations. They gave me excellent roles in films like Mirchi and Bhagamathie.
Can we expect cameo roles from you like the one you did in Sye Raa Narasimha Reddy?
It was not a planned one. When they told me about that cameo, I instantly liked it. It is a privilege to be part of Chiranjeevi Garu's film. It was never planned in the first place. I will definitely do it when someone approaches me with such roles, and I feel them close to my heart.
Fans wish to see you in films like Arundhathi. Can we expect such films from you in the future?
Definitely, I would love to. Arundhathi holds a special place in my career. It wouldn't have been possible without Shyam Prasad Reddy Garu and Kodi Ramakrishna Garu. They had a vision and believed that I could pull off that role. They guided me throughout. I always believe classics like Arundathi will happen when everything falls into place. I will carry the memories of Arundathi for the rest of my life.
Do you wish to do OTT projects? Also, do you have any plans to enter Bollywood?
Nishabdham took the OTT route due to Covid. It was actually meant for theatres. I am a huge fan of theatrical experience. The experience we get in theatres is totally different. But the kind of content OTTs are bringing is really incredible, and they push us to think out of the box. If I come across any exciting script, I will definitely act in OTT shows, too. There are no geographical barriers now, and it is just Indian cinema. I am ready to work in any language if the script is good. Acting in different languages and with different actors and technicians will be nice.
What is it that you wanted to convey to your fans about Miss Shetty Mr. Polishetty?
I want to thank my fans who have supported me right from the start of my career. I know that thank you won't be enough. They have respected my decisions and showered unconditional love like my family. Regarding this film it is filled with a lot of humor and emotions. I hope all sections of the audience will enjoy the movie.
With that, we ended our interview with Anushka Shetty and wished her the best of luck for Miss Shetty Mr. Polishetty.
Interviewed by Pradeep
Articles that might interest you:
Ad : Teluguruchi - Learn.. Cook.. Enjoy the Tasty food