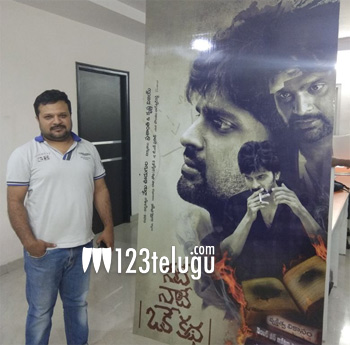 Needi Nadi Oke Katha has been receiving some thumping applause from all over. The film had no commercial elements and stuck to the plot and managed to address a serious issue. On the eve of the film's success, we caught up with the film's editor Bonthala Nageswara Reddy for an exclusive interview. Here is the transcript.
How is the response to the film?
The response is great. In fact, we never expected such a huge response from the audience. The film is doing exceptionally well and close to 70 theaters have been increased all over the two Telugu states.
What kind of feedback did you get for your editing?
A lot of people have been calling me to appreciate my work. Several directors and technicians personally sent me messages saying that the edit of the film was quite cool and made them get involved in the film completely. I can clearly remember director Madan's words who appreciated each and every single aspect of my editing style of the film.
What kind of hard work went into the making of the film?
Holding drama for so long is very hard. There are mostly single shots and reactions and I need to make sure that everything looks like a single scene without breaking the flow. If you remember the last scene between the father and son in the rain, there are not many dialogues as the director carried the effect only through emotions. This was the time when I had many shots cut which showcases the pain in the proceedings.
Why did you have the film's runtime just two hours one minute?
I can say our film broke the commercial plot format and said what it had to in a very strong manner. This is the reason, the runtime was short and sweet.
Your association with director Venu?
Both I and him have been roommates for a long time. We have struggled together and have come to this stage after going through a lot personally and professionally. I always knew the film's script for a long time and this helped me in getting on with the work in an even easier way.
About your background?
I am from the Kurnool area and after completing my graduation, I had some relatives who knew director V V Vinayak. Slowly, I reached Hyderabad and joined Prasad Labs and worked for DI. Then I assisted Goutham Raju for over three years. I also worked for Mohan Babu's company called Think Smart and from 2007 to 2010 I worked for many films as an associate editor. As Venu is my close friend, I got the chance to work on my debut project.
How do you see an editor's job in the industry?
The editor is the biggest underdog in the industry. Half of the film gets made on the editing table but we editors do not get much fame as the directors and actors do. Not much is also written about their work but things are changing slowly and times have changed now as new age editors are coming in changing the trend.
Working with Sree Vishnu and the producers?
I have to thank my producers for taking good care of me and giving what I wanted for the film. Also, the manner in which we were given a free hand to work was quite appreciable. Here I need to thank people like Krishna Vijay, Prashanti mam, Venu, our co-director Umesh, associates Chari Siva Kalyan, Narayanamurthy, Akshara, Sreenu, music director Suresh for helping me out with my work.
Future Projects:
As of now, I am in discussion stages and will let you know once things are finalized.
With that, we wrapped up our interview with Nagesh and wished him the best of luck for his future.
Interviewed by Avad
Articles that might interest you:
Ad : Teluguruchi - Learn.. Cook.. Enjoy the Tasty food