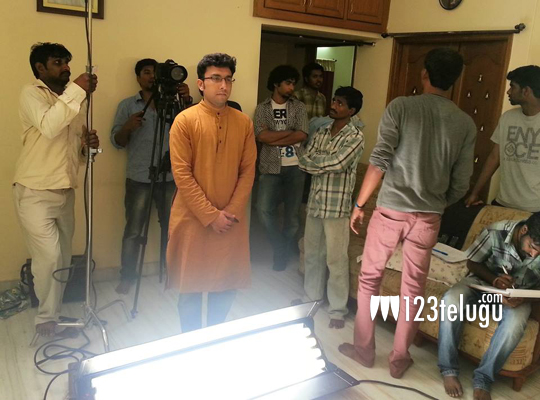 Kireeti Damaraju is an upcoming actor. He is an engineer by profession and he works in a reputed multinational company. After making a name for himself in the short film circuit, Kireeti is getting ready for his silver screen debut with the movie 'Second Hand'. We caught up with Kireeti for an exclusive interview. The budding actor spoke about the movie and about his outlook on cinema. He also happens to be a mad fan of director Trivikram Srinivas. Read on to see what he had to say.
Q. Give us a brief introduction about yourself. How did you get into acting?

A. I am from Guntur but I grew up in Hyderabad. From my childhood days, I used to watch a lot of movies regularly. After engineering, I realised that I must do something in films. I decided to opt out of the traditional Film Institute route. I was more interested in theater. Theater is more challenging. There is no prompting and no support. People act without a cut. I realised that Bangalore has a very good theater scene, where people encourage theater very actively. I work in an MNC, so after a 5 day workweek, I used to spend my weekends watching plays of all kinds. I learned my acting basics there.
After some time, I wanted to upgrade my acting skills and that is when I came across the Adishakti group, which is one of the most renowned theater groups in India. I learnt the finer nuances of acting there. They taught me a lot of things like eye movements, Kalaripayattu etc.
After picking up those things, I started appearing in short films. 'Ontiganta' and 'Anukokunda' brought me recognition. 'Anukokunda' was appreciated by many Telugu Film Industry people and it was the first Telugu short film to be selected for the Cannes Film Festival.
Q. How did Second Hand happen?
A. Some assistant directors saw my short films and thought I would be a perfect fit for the role of Subbarao. I was called to the office and the director narrated the script. I immediately agreed, as I saw great potential in the character. I found the treatment to be quite fresh.
Q. Are you happy with the output?
A. It has come out really well. As far as I can tell, Kishore Tirumala has done a great job with the film. The technical team enjoyed the film thoroughly and when a technical team enjoys the proceedings, the output usually comes out well.
Q. Who are your role models in the Industry? Who inspires you?
A. I really like the work of Jandhyala garu. I also look unto veteran actors Naresh and Rajendra Prasad garu for the kind of comedy films that they used to do. A few years down the line, if producers and directors create special characters exclusively for me, I would consider myself a success. I would like to create my own space. "Ee character Kireeti kante evaru baga cheyaleru, ane oka talk osthe chaalu".
Q. Who helped you in your journey?
A. I rely heavily on social networking platforms and I have made good connections there. These people have helped me. Social networking is a very powerful platform and if you use it effectively, you can go places. I come from a non filmy background, so I did not have any real support from the Industry.
Q. Are you happy with your journey so far?
A. Yes. Right now, I am very happy with the way things are progressing. I believe that the character of Subbarao will help me in projecting myself in the right way.
Q. Any particularly frustrating moments in your journey until now?
A. Not really. Luckily,I did not face any such frustrating moments until now
Q. Is it tough to become an actor without a filmy background?
A. I personally think it is quite tough. But, when you have the passion, you can move ahead.You need to have a clarity of purpose. If you desperately want to become an actor and have the passion, no obstacle is too tough.
Q. How does your family react to your endeavours?
A. My family does not enjoy films too much. "Cinemala ki velthe padaipothaadu ane feeling lo untaaru". I am on my own here.
Q. What can you tell us about director Kishore Tirumala?
A. Kishore is a mixture of Puri Jagan and Sekhar Kammula. He takes realistic and very believable characters like the ones found in Sekhar Kammula's films, but his treatment and dialogues will be closer to Puri Jagan's style.
Q. What do you do in your free time?
A. I watch a lot of films and I try to analyse them. I spend time with my play station 3. Films, games and technology are my three biggest passions.
Q. What kind of Cinema do you love?
A. I like thriller films like 'Anukokunda Oka Roju'. Thrillers should not have too much violence and horror. I also enjoy comedies.
Q. What are your upcoming projects?
A. I have played a role in 'Uyyala Jampala'. I will also be seen in 'Mario', which is being produced by Nara Rohith. Right now, I am waiting for the release of 'Second Hand'. I will get more clarity after this and I will choose my roles carefully.
Q. Any dream projects/roles/combinations?
A. I love Trivikram Srinivas garu's work and I would love to act in his film. I feel Trivikram garu is a blessing for the Telugu Film Industry. We can learn a lot from him. I follow each and every interview of his. He is a rare kind of person, who speaks to the point but with a lot of philosophical depth.
Q. Anything that you would like to tell viewers?
A. Telugu viewers have a terrific sense of humour. "Mana Telugu cinema lo comedy ki unnantha support ekkada undadhu". I hope they enjoy themselves with 'Second Hand' . This is a mass film that has class content.
With that, we wrapped up our conversation. Let us wish Kireeti the very best for 'Second Hand'.
Interviewed by Mahesh S Koneru
Articles that might interest you:
Ad : Teluguruchi - Learn.. Cook.. Enjoy the Tasty food