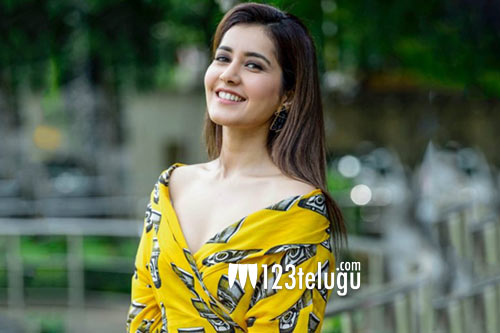 Continuing the lockdown interview series, today, we bring you an exclusive interview with star heroine Raashi Khanna. In a detailed interview, we got to know the other side of this wonderful actress. Here is the transcript.
What films were you shooting when the lockdown was announced?
I was shooting for Aaranamai 3 when the lockdown was announced. I luckily made back home to Hyderabad and have been happy staying with my parents since then.
What made you move to Hyderabad?
It has been four years since I have moved to Hyderabad and I just love the vibe of the city. The people here are nice and so is the weather. I have my own house and live with my parents. Only my brother and his family live in my Delhi house.
You were terrific in World Famous Lover but were also trolled?
Maybe the audience didn't want to see me in a serious role. The moment I heard the story, my reaction was to do this film at any cost. But sometimes, what is on paper does not transform on screen. There were certain scenes that were edited out for the betterment of the film which would have given a good perspective to my role. But nevertheless, I had great working experience on that film.
The audience just love you in bubbly roles?
Yes, they love me being happy and bubbly. This started with Supreme and continued with Prati Roju Pandage. I have got so much appreciation for these roles and thank my directors for showcasing me in a new manner.
WFL got a mixed response. Will you keep away from serious films?
No, I cannot. As an actor, I need to do challenging roles. But I will surely do what people like me in but there will be a fine balance in choosing both commercial and serious films where I get a good scope for acting.
Tholi Prema showcased your real acting prowess. What do you have to say?
Yes, it gave a new lease of life to my career and was one of the happiest moments of my life. The character had so much to do and because of that, I am getting good offers in Telugu and Tamil which I am grateful for.
Do you consult anyone while signing a film? Is remuneration a criteria?
It is always my gut feeling when I sign a project. I see my role and how it is linked to the whole story. For me, money has not been a criterion. I look at my role and the banner and if I feel that I should get paid this much, I discuss and make sure I get it. I cannot name the projects but I have left many of them even after being offered big money.
What's happening with your love life. There is not much gossip written about you?
Laughs! Because there is nothing happening in my life. I do not pay heed to gossips and busy with my work and come back home and chill on my own. The career that I have chosen keeps me on my toes all the time.
Did you always want to become an actor?
No, acting was never on my mind. I always wanted to become an IAS officer. Then, life is filled with surprises and one thing led to another and after a brief stint in modeling, I was offered Madras Cafe in Hindi. Then, Oohalu Gusa Lade happened and since then, there has been no looking back.
Tell us about your friendship with Bollywood star Vaani Kapoor?
We go a long way together and are very close in life. I met her at an audition in Delhi and asked her to get into modeling and move to Mumbai. We then moved together stayed in the same room and am very happy that she is also going places in her career.
What kind of person are you in real life?
I am a very shy and spiritual person in real life. I don't indulge in gossips and am quite silent most of the time. I chill at home do my own thing and read a lot. I am a person with simple needs and do not go fancy.
Any bad experiences in the industry?
Touchwood, things have been quite good till now as no one has cheated me and deprived me of my work. I am very careful in those matters and think ten times before saying or doing anything.
Any actress that you feel competition?
I would not say completion but I have always been appreciable of Samantha's work. She has done so well for herself and has been doing different things time and again. I just loved her in Majili. I also adore Vijay Sethupathi's work too, he is dam good.
Worst moment in your career?
Not many know that I had health issues in 2016 and had gained weight. That was the time that upset me mentally and physically. Also, the media and trolls were pulling me down regarding my weight. But I got through that phase with a lot of will power and gained my place back.
Future projects and plans?
I was almost about to sign two Telugu films but lockdown happened. Then, I have three Tamil films lined up that I am super excited about. I am taking one film at a time and am trying to re-invent with each film. I have a long way to go and the best is yet to come.
The first things you want to do post the lockdown?
I am loving my lone time and as there are no maids, I am doing all the daily chores. I have learned to cook a bit but more than anything, I want to rush to Delhi and meet my brother and his family. I am missing them so much.
With that, we ended our interview with Raashi and wished her the best of luck for her future projects.
Interviewed by Avad
Articles that might interest you:
Ad : Teluguruchi - Learn.. Cook.. Enjoy the Tasty food