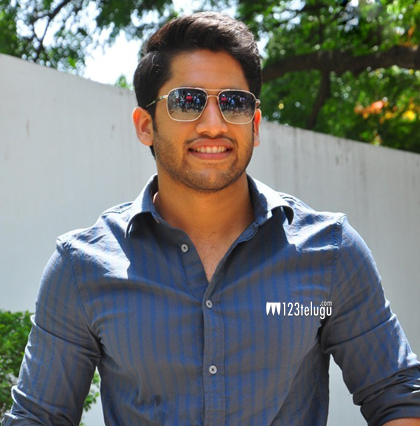 Yuvasamrat Akkineni Naga Chaitanya is all set for the release of his upcoming film 'Tadakha'. The movie is a multi-starrer, with Sunil playing the role of Chaitanya's brother. Tamanna and Andrea Jeremiah are the female leads. Chaitanya is very confident about Tadakha and he expecting the movie to give him a big break. He interacted with members of the press today, so read on to see what he had to say.
Q. Have you seen the final output of the film?
A. Yes. I have watched the film at Prasad Labs and I am very happy with the film's final output. My confidence has increases after this and I am sure that Tadakha will give me a big break.
Q, What can viewers expect from the movie?
A. The film's action sequences will a highlight. Apart from that, the movie is going to be a complete package for families. There is something in it for everyone. The story has some nice emotional moments. The bonding between brothers and sisters will also strike a chord with viewers here.
Q. Is the film a faithful remake of 'Vettai' or have you made changes to the story?
A, We have changed the film quite a bit. There is more comedy and entertainment in this version. The movie has been changed quite significantly for the second half. There is a change in characterization as well. My character has more entertainment when compared to the Tamil version. Sunil"s character has a more serious side in the second half.
Q. Have you made the film better with these changes?
A. The thing is, Telugu sensibilities and Tamil sensibilities are very different. We should not make a scene to scene copy just because it is a remake We need to own the product and adapt it to reflect local values and tastes.
Q. Do you like mass roles?
A. Yes. I absolutely love mass roles.But I did not get a chance to prove myself earlier. My previous films did not have the required reach. They did well only at multiplexes and A centers This time, I am confident about success as a mass hero.
Q.Do you believe Dolly to be the right choice as a director for this kind of a film?
A. Yes. I liked the taking of Dolly's 'Konchem Istam Konchem Kashtam'. The movie has a good entertainment angle to it. Just like me, he is also keen on proving himself as a mass director. Dolly also happens to be a huge fan of Linguswamy. So we felt Dolly would be the right guy to helm this remake.
Q. It has been a while since you tasted success. Do you feel the pressure of having to prove yourself?
A. The pressure is definitely there. The long gap between releases also did not help .I was disappointed as an actor due to this long gap.I have made mistakes in the past and I am looking to change things. I will do my best to come out with at least two movies a year from now onwards. But I don't want to accept any and every movie that comes my way.I want to accept good scripts.
Q. What about Autonagar Surya?
A. The movie is complete and it will release soon.
Q. How was it to work with Sunil?
A. Sunil is like my brother. He is a very encouraging guy and he gives good moral support. He is also a terrific dancer.
Q. Do you think there is room for improvement in yourself, as an actor?
A. Definitely. An actor must grow with each film. Every actor will seek to improve himself continuously. "Ledante career end aypotundi." (Smiles)
Q. Does ANR watch all your films? What sort of a feedback does he give?
A. ANR garu is my biggest and most valuable critic. He is very frank and gives me honest feedback. In fact, he gives me negative feedback first and then tells me the good things.
Q. Are you comfortable with criticism?
A. I am open to criticism. I am growing because of that. If someone tells me my film is bad, I ask and try to see what went wrong. Constructive feedback is always good.
Q. What about your upcoming projects?
A. Our family starrer 'Manam' will begin in June. This movie will thrill you as it has a totally unexpected line. I am really excited about this project.
Q. What about 'Gundamma Katha' remake? Are you still interested?
A. "Tarak ki naku interest undhi Gundamma Katha remake ki" .But we need the right cast and the right director to helm that. When these things fall into place, we will definitely attempt that.
Q. Do you have any plans to go to Bollywood?
A. (Smiles) No. I am very happy here and I don't have any plans to go there
Q. Does Nagarjuna influence you in script selection?
A. Dad gives me freedom and lets me take a call. When I like a script, I just tell him and he gives me a few ideas. That is all. The only film which I did not discuss with him is 'Autonagar Surya'.
Q. Nagarjuna garu is known for encouraging new talent and trying out new things Will you continue that trend?
A. I will encourage new talent. There are lots of good scripts and good people here. When I come across something that appeals to my heart, I will surely work with new people. As for experiments, every film is an experiment. No one knows what works or does not work at the Box Office until a film releases.
Q. How was it to work with Tamanna? She says you are an absolute darling to work with..
A. (Smiles) Tamanna is a darling too. We have worked successfully for '100 % Love' and when you repeat a successful combination, the chemistry tends to get better.
Q. You are not on social networks. So how do you interact with fans and movie lovers?
A. I am not on social networks. But just because I am not on social networks, it doesn't mean that I stay away from fans. I am quite accessible to everyone and I speak to people who comes to meet me. More than interaction, I believe people get onto social networks to promote and publicise themselves. I would like to let my body work do that for me.
Q. What are your favourite hobbies?
A. I really love cars and bikes and I have a good collection. I am very passionate about them. I also take a lot of interest in fitness activities.
Q. The film is releasing tomorrow. Are you nervous?
A. Yes, I am slightly nervous about 'Tadakha' as there are expectations on the film. But like I said, we are all quite confident about the film as well and I am really looking forward to the release.
With that, Chaitayan signed off. He comes across as a suave and very well mannered gentleman, just like his father Nagarjuna. Let us wish Chaitanya the very best for his film.
Interviewed by Mahesh S Koneru
CLICK HERE FOR TELUGU INTERVIEW
Articles that might interest you
Ad : Teluguruchi - Learn.. Cook.. Enjoy the Tasty food