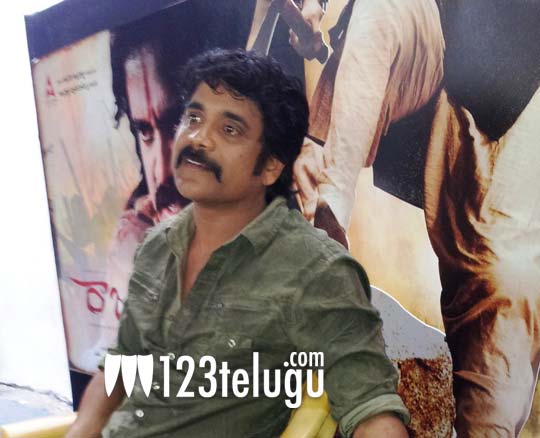 'King' Akkineni Nagarjuna is one of the most admired and sought after heroes not just in the Telugu Film Industry, but also among the southern film circuit. His popularity extends to Bollywood as well, where he has done a couple of movies. Nagarjuna will soon be seen in the period drama 'Rajanna' and our team caught up with the actor for a special chitchat at Annapurna Seven Acres. The actor was shooting for 'Damarukam'. Here is that conversation for you folks.
Q) Hello Nagarjuna garu. Congratulations for the superb audio of Rajanna.
A) (Gives a million dollar smile) Thank You very much. I am getting a lot of congratulations and very positive feedback for the audio. This is probably my 16th or 17th film with Keeravani garu. He has given a fantastic audio. Feels good.
Q) 'Rajanna' is around the corner. What is your feeling about the output?
A) I am extremely satisfied with the output and the way the movie has shaped up. This movie will tug at the strings of your heart. Anyone who has kids or who likes kids will not leave the theater without tears in their eyes. It was a whole new experience working for this movie. This movie is also special because we are venturing into overseas distribution properly with this film. We did it for Bejawada but it was not planned.
Q) The original plan was to release it in September or October. Any reason for the delay?
A) The movie has a lot of special effects and CGI work. We wanted to come out with the perfect output and hence we took time. We could have released the movie in November, but the distributors said that November is not a very good month. So here we are, at my lucky date (smiles again).
Q) What is your favourite scene from the movie?
A) There are quite a lot of them. For example, there is this scene where Rajanna has to part with his five best friends. That scene has been brought out extraordinarily well by Vijayendra Prasad garu. Terrific dialogues and a captivating screenplay will arrest your attention. Gijigadu is a lovely song that comes throughout the movie. 'Vey Vey' is another song that has been shot powerfully.
Q)We are hearing great reports about the actions sequences.
A) Yes. They have been directed by Rajamouli garu and the result is fantastic. I can't wait to see the reaction from the public. We shot the climax fight for almost a month at a specially erected set.
Q)How was it to work with Rajamouli ?
A) Rajamouli is amazing. He really gets into the character he is directing and he personally acts out the scene before getting us to do it. He literally transforms into another person on the set. He is also very patient. He used to be so nice to the kids in the movie and he extracted the best performance from them. His dedication has to be seen to be believed. No wonder he is where he is today.
Q)Who designed the look of Rajanna?
A) Vijayendra Prasad garu wanted the character of Rajanna to have the imperial look of a lion. Rama Rajamouli and Rajamouli garu took special care about the costumes and the look. We had a lot of sittings to get the look right.We used special hair extensions. I think the long hair suited my look well as it went well with my height.
Q) Did you do a lot of homework for this movie?
A) Absolutely. I used to find out a lot of stuff through Google. We spent a lot of time and money to make everything look authentic. For example, the houses in the village set had to be completely built and plastered with mud. We could not use cement or other such stuff. Such critical things will make a difference to a movie.
Q) Tell us about Baby Annie.
A) Oh she was absolutely terrific. She did a great job in Vikramarkudu and she is even better in this movie. She is a major asset to the film. I felt really bad for not having even a single scene with her in the movie. It would have been great.

Q) Chaitanya seems to have hit a rough patch. How do you feel about that?
A) What can I say, except to scold the directors and producers. But it is good in a way. He needs to know these things and I am already noticing a change in his decision making process. It will be a good learning curve for him. He will come out fine.
Q) What about Akhil?
A) Well, he is still a kid. He is currently busy with his studies and he will take a decision in a couple of years. Let us see what he wants to become. If he is interested in this field, I am always there to support him as a father.
Q) What are your future projects?
A) I will be starting 'Shiridi Sai' from January 25th. I will be sporting a real authentic beard and I need to grow it for a month. After that, I am planning a film with Dasarath. We have a good story line but we need to refine it further. I now want to do films that will leave a lasting legacy. I want to be remembered for my work. Fortunately, Rajanna and Damarukam came along at the right time. I want to do some Pouranikalu and Janapadha Kathalu. Let us see.
With that, the handsome actor rushed off to resume shooting for Damarukam. Let us hope that Rajanna strikes gold at the Box Office.
Interviewed by
—
K.S.Mahesh
Articles that might interest you
Ad : Teluguruchi - Learn.. Cook.. Enjoy the Tasty food